The Green Sheet Online Edition
May 25, 2020 • Issue 20:05:02
ISOs, MLSs rise to COVID-19 challenges
By Patti Murphy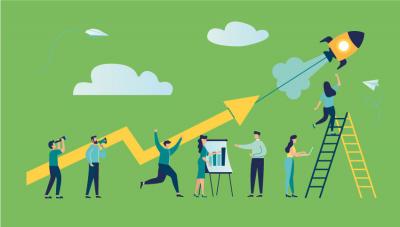 These are trying times for all manner of businesses. With countless stores closing and others experiencing sinking sales due to mandatory stay-at-home orders intended to flatten the curve of COVID-19 infections, ISOs and merchant level salespeople (MLSs) are reimagining operating strategies.
Some who have built their portfolios on face-to-face sales are turning to telephone sales and social media outreach. Others are promoting value-added services like customized ecommerce sites, integrated online ordering and virtual terminals. Many are reassessing the value of and promoting opportunities with cash discounting.
"We definitely have people who have thought about cash discounting in the past, who now seem ready to pull the trigger," said Laura Demke-Calixe, founder and CEO of EPNA, a Chicago-area ISO. "We've had a lot more people inquire about it."
EPNA is unique among ISOs in that it operates a storefront in downtown Evanston, Ill., where businesses can meet with agents for statement analysis and to select POS devices. While the office has been closed due to state shelter-in-place orders, EPNA still offers support services from the office, such as terminal replacements, for drive-up customers, Demke-Calixe noted.
Austin Mac Nab, executive sales director at VizyPay, a Des Moines, Iowa-based ISO, has also seen an uptick in interest in cash discounting. "Merchants are looking to new operating models, as many are being forced to conduct business in different ways," he said.
VizyPay's approach to cash discounting differs from the prevailing model in which a service charge is added to all purchases at the register, with a corresponding discount offered to cash-paying customers. Instead, VizyPay works with clients to raise prices on all their products to cover processing costs (between 1 and 4 percent) and automatically apply discounts at the checkout for cash-paying customers, Mac Nab stated.
While the model may not be an ideal fit for all merchant verticals – a convenience store with thousands of SKUs, for example, may not find it viable, Mac Nab conceded – it works well for many, especially restaurants. Of the addition of card processing fees to individual prices, he said, "no one knows it's happening except the owners themselves." He further noted that many restaurants, hard hit by forced closures and sole reliance on take-out orders, are looking to increase prices to recoup losses. That can be a perfect time to add a cash discounting program like the one offered by VizyPay, he said.
Farmers markets, also suffering under the weight of the COVID-19 pandemic, are also interested in leveraging online sales opportunities, said Demke-Calixe. EPNA offers an app farmers market sellers use to showcase and sell their products online for off-site pickups. "It's all contactless," Demke-Calixe said. "We've had great traction with this." At last count, about 50 farmers had signed up, she added.
Learning to pivot
Many MLSs that excel at face-to-face selling have pivoted to other sales tactics as stay-at-home orders keep them from pounding the pavement. "We're focusing more on our online ordering service, cash discount and getting everyone more comfortable using the phone for prospecting," said Jeff Smith, director of sales at World Bankcard Services in Fairfax, Va.
"I've started getting comfortable on the phone," said Brendon Degner, founder of Summit Payments in Aurora, Colo. "I'm also focused on following up with prospects that have fallen through the cracks over the last several months. Signed one up today on cash discounting."
Degner added he's also been spending time on his website and learning search engine optimization strategies.
Selling merchant services over the phone, or through social media, requires a different mindset than face-to-face sales. "It's a warmer sales process," Mac Nab said.
James Shepherd, founder of CCSalePro, concurred, stating, "Selling on the phone or through other stay-at-home options involves two distinctly different phases. The first phase is more like a qualification process in that it generates leads. This is where creativity comes into play."
For example, an MLS can form a Facebook group for local businesses to share their experiences and challenges during the coronavirus pandemic. The first step in the process is calling business owners to explain what you're doing and ask them to join the group. Once they join and participate, you'll have a feel for whether they are good prospects and what they might need in terms of payment processing solutions. Only then does the MLS go in for the sale.
Another tactic might be to telephone clients that are using old POS technologies. "Tell them that you can offer financing options for new equipment if they qualify," Shepherd said. Then the MLS poses some questions to ascertain whether they qualify, and if they do, schedule a demo.
VizyPay, which uses a combination of in-house agent employees (W2) and independent contractor (1099) agents, has been working on getting its independent agents up to speed on new marketing techniques. VizyPay's in-house agents, with their focus on marketing through social media platforms, have been tasked with helping agents in the field. "We took all the knowledge from our inside sales team and put it together on our agent portal as tools [independent agents can use] for pursuing new clients," Mac Nab said.
VizyPay also has been promoting its Look Local First program, which encourages consumers to shop local. And according to Mac Nab, interest in the program has increased since the COVID-19 outbreak.
Reimagining business
Tim Beck, a Harrisburg, Pa-area MLS doing business under the Align Payments moniker, said he's been using the current lull in business to reach out to "accountants and other influencers about how I can help them retain and bring more value to their clients."
Beck also has been talking to merchants about "payment technology solutions that will not only help them survive, but thrive." These include POS systems, ecommerce platforms, virtual terminals and integrated marketing. "That terminology is resonating with them," he said. Virtual terminals are a hot-ticket item with merchants, according to Mani Rahnama, CEO for Ontario-based International Payment Solutions. "Today is a perfect time to integrate virtual payment terminals into the business model," he said.
Several MLSs told The Green Sheet they're receiving more requests for mobile-enabled POS devices to support curbside order pickups among restaurants and businesses in other verticals.
In addition, results of a survey recently conducted by 451 Research revealed strong interest among merchants in adapting new payment technologies that they can continue to benefit from after the pandemic subsides
"Having a well-orchestrated strategy across sales channels is more important than ever," said Jordan McKee, 451's research director. "Even when we begin to return to whatever normalcy looks like, digital will continue to be important and perhaps much more important than it was prior to the outbreak."
Payments technology provider Nuvei, like many acquirers and ISOs, is developing new tool sets geared toward small and midsize businesses hard hit by coronavirus lockdowns. The Plano, Texas-based company recently unveiled its Merchant Guru turnkey program for migrating merchants to a cloud-based payment system paired with targeted digital advertising.
"This concierge-based service empowers merchants to radically redesign their client service and distribution model," Nuvei said in a statement. "[I]t's aimed at not only helping them boost sales during this critical time, but it also enhances their brand with a powerful social media presence and long-term strategy."
Planning for the long-term is crucial, Shepherd advised, as changes being ushered in by COVID-19 are likely to remain over the long haul. "It's important to continue learning and adapting," he said. With more time in the office or at home, when calling on merchants isn't an option, it's a good idea for MLSs to take stock of changing market dynamics and learn or adapt sales skills that address the new dynamics. "If you're not plugged into change, you're going to be disadvantaged," Shepherd said. "You've got to move forward if you want to win long-term."

Patti Murphy is senior editor at The Green Sheet and co-host of the Merchant Sales Podcast.. Follow her on Twitter@GS_PayMaven.
The Green Sheet Inc. is now a proud affiliate of Bankcard Life, a premier community that provides industry-leading training and resources for payment professionals. Click here for more information.
Notice to readers: These are archived articles. Contact names or information may be out of date. We regret any inconvenience.
Prev
Next