The Green Sheet Online Edition
April 27, 2020 • Issue 20:04:02
Payments companies step up to help amid COVID-19 crisis
By Patti Murphy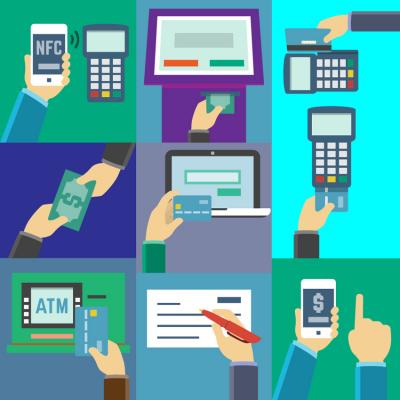 Businesses everywhere are getting hammered by plummeting sales, as social distancing and stay-at-home orders keep millions of customers and prospects out of their shops. Payment processing companies and their partners are stepping up to the plate, offering lifelines like marketing and other services at no cost, fee reductions, loan guidance and even outright grants of money.
"Everyone is suffering right now," said Walter Allen, national sales manager for the commerce division at Sound Payments, which provides merchants with POS technologies through its ISO partners. The company is waiving Sound POS service fees for three months for all existing merchant customers as well as new merchants added in April. "We're trying to ease some of the pressure," Allen said.
"The payments industry has the ability to help," said Adam Bloomston, president of merchant acquirer Payroc. "We have unique insights into what's going on in the small business market." "If small businesses go down, what will payments companies do?" he said, acknowledging that acquirers have skin in the game.
Stark numbers, helping hands
The COVID-19 pandemic, caused by the novel coronavirus, has hit businesses large and small like a sledgehammer. A survey of small and midsize business, conducted March 27 to 30, 2020, by The Strawhecker Group, found 37 percent were closed to some extent, either temporarily or indefinitely, due to the pandemic. Among SMBs that were still open, 26 percent had experienced sales drop offs in excess of 50 percent since the pandemic began.
The U.S. Commerce Department reported retail sales were down 8.7 percent in March compared to February, the largest one-month drop ever recorded.
There are some bright spots. TSG said 66 percent of SMBs it surveyed in healthcare saw sales increase. And the Dallas-based restaurant chain Wingstop reported a boost in sales for the fiscal quarter ending March 31, despite being forced to suspend dining room service in mid-March and relying exclusively on takeout and delivery service. Ecommerce sales are also growing. "We're definitely seeing a surge in ecommerce," said Nick Starai, chief strategy officer at payment gateway provider NMI.
Some of that growth in being driven by online grocery orders. A March 23 to 25 survey by marketing consulting firm Brick Meets Click and the online fulfillment platform ShopperKit found 31 percent of households had used an online grocery service for pickup or delivery over the previous month, compared to just 13 percent of households last August.
But most businesses are hurting. A survey of small businesses by the National Federation of Independent Businesses found 92 percent had been negatively impacted by the coronavirus pandemic as of March 30, with the majority of those businesses (80 percent) reporting slower sales.
Visa, through its Visa Foundation, committed $200 million in grants and investments to help small businesses and nonprofit organizations, including a Back to Business data base that highlights merchants in regions hard hit by the downturn. Visa also is waiving monthly service fees through June 1 for new clients of its Authorize.net ecommerce gateway.
Restaurants have been among the hardest hit by stay-at-home and social distancing directives. The market research firm NPD Group reported that customer transactions at U.S. restaurants were down 41 percent the week ending April 5, compared to the same week in 2019.
The downturn in restaurant sales has led to a surge of interest in online ordering solutions, with several ISOs offering restaurant clients alternatives to the national aggregator delivery services. Bryte Payment Solutions, in Jacksonville, Fla., is offering to deploy online ordering solutions with no setup or monthly service fees, at least for the duration of the pandemic. And unlike the national aggregators, Bryte receives no commissions from restaurants. "We charge a minimal service fee to the consumer, just like DoorDash and UberEats, but it's less," said Jason Felts, Bryte Payments CEO.
Smaller ISOs – Impact PaySystem and National Merchant Services among them – have taken similar steps. "We're trying to help them get more money in the door," said Rick Johnson, president of National Merchant Services, which is foregoing setup fees for its new online ordering service. He noted that much of the feedback he's receiving from restaurants relates to data insights the service offers on their customers. "Down the road, once this is over, they will be able to use that data to help get customers back in their restaurants," he added.
"It is highly probable that this crisis will define food service winners and losers by their digital proficiency, since consumers may prefer the contactless delivery protocol that digital ordering offers," said David Portalatin, vice president and industry advisor for food service at NPD. "Now that we're living in a world where the entire industry is an off-premise business, digital orders gain importance and provide an edge to those who already lead in that space."
"The ISO community and the feet on the street have always been good at figuring out ways to promote merchants and provide value," Starai said. "We're definitely seeing some innovative things."
Financial and marketing assistance
Payroc launched several initiatives to help its 55,000 small business clients through the pandemic, Bloomston said, including Paycheck Protection Program loan assistance through a partnership with Womply. The firm also set up a GoFundMe page to raise money for merchants in need, and it offers free marketing services.
"The first thing we did was to stop all internal marketing," Bloomston said of the company's response to state-imposed stay at home orders. Payroc's marketing team of 12 was "re-galvanized" into a "marketing agency" devoted to serving clients. "We're not making any money on this," he said. "Our position is that we just want to help our small businesses."
The free marketing services include website enhancements, ecommerce and shopping cart development, social media campaigns, and graphic designs for online and print ad campaigns.
Payroc's GoFundMe page – #Bucket Brigade – had raised over $28,500, largely from company executives and friends, as of April 13. The company plans to hand out $500 grants from the kitty to clients in need, Bloomston said.
Payroc also has been sharing stories with clients on how other small businesses are reworking business models to soldier through the pandemic. For example, a restaurant that is preparing meals and sending wait-staff out to a local park where they're selling meals from their cars, and a hair and nail salon that is producing Zoom classes for patrons, offering fee-based tutorials on hair styling and do-it-yourself manicures. "We're just trying to help in any way we can – to put them in the know," Bloomston said.
Making contact, less
Although the coronavirus is keeping many consumers at home, most do have to go out, albeit less frequently, for essentials. "Face-to-face transactions still need to happen, even in times as unusual as now," said Sandeep Malhotra, executive vice president, products and innovation for Asia Pacific at Mastercard. "Making them as fast and contactless as possible is one way to help people to be more socially responsible, support local businesses and protect everyone in the community when they need it the most."
Both Mastercard and Visa are reiterating in messaging to merchants that signatures are no longer required for transactions secured by EMV. They also are amping up messaging around contactless payments. Both are also taking some credit for European Banking Authority actions to promote contactless payments, including its decision to raise transaction limits on contactless payments to 50 euros (about $55).
Contactless payments have gained significant traction outside the United States in recent years. As of February, half of card-present transactions routed through the Mastercard network (excluding those in the United States) were contactless payments. Visa reported similar data. But that could change, as the major U.S. card issuers (American Express, Bank of America, Capital One, Chase, Citi, Discover and Wells Fargo) have or are in the process of issuing contactless cards to all customers.
"Contactless makes a lot more sense now," Allen said. "I see it accelerating." ISOs can help guide merchants, he added, by offering solutions that integrate contactless and "create a safer environment from a health perspective."
TSG's merchant survey suggests contactless adoption is picking up in the United States. Among the businesses it surveyed that are still accepting payments on premise, 27 percent reported increases in contactless payments.
Contactless payments can be made using mobile devices with apps like Apple Pay and Google Pay, or with cards embedded with EMV chips. Most U.S. consumers seem to prefer using contactless cards. Starai estimated that only about 3 to 5 percent of contactless payments are being made with mobile devices in the United States now. With issuers now deploying hundreds of millions of EMV cards with contactless functionality, Starai expects "a huge uptake in usage" will occur.
Acquirers, ISOs and their partners are pushing contactless technologies. Payroc, for example, has partnered with CardFlight to offer CardFlight's SwipeSimple contactless apps and terminals to food and beverage merchants to support curbside pickups and deliveries – at no additional charge through July 31.
"When CardFlight came to us with the idea for this relief program, we were immediately on board," Bloomston said. "Our teams worked together to implement it and were able to roll this out in less than a week to start helping small business owners right away."
Starai advised ISOs and merchant level salespeople (MLSs) to "think about leading with contactless. If you have merchants with older terminals, it could be a good time to upgrade them to contactless."
In addition, Allen noted there is a huge market opportunity with fuel stations. All pay-at-the-pump terminals need to be EMV compliant by October, or assume liability for fraud tied to non-compliant pumps – the so-called liability shift that other retailers experienced in 2015.
Staying engaged
With all the uncertainties associated with coronavirus and the economy, the best thing ISOs and their sales partners can do right now is stay in front of their merchants. "They really need to stay engaged," said Starai. "They need to help clients adapt."
"Merchants may not want to buy new systems now, but at some point things are going to turn around," Allen said. "You need to be at least talking to them now. We're spending a lot of time finding ways we can help [acquirers, ISOs and MLSs] with promotions." He added that the company has been getting a good response to its fee waiver offer.
Sound Payments also has been promoting a solution for gas stations that eliminates much of the money and most of the time needed to upgrade pay-at-the-pump terminals for EMV compliance, including contactless. EMV Easy Pump retrofits existing pumps and was developed specifically for independent gas stations. "We're getting good traction with the solution," Allen noted.
The company is also seeing more interest from ISOs looking to resell its cloud-based mobile POS solution, particularly to small business clients. It's an important consideration, Allen noted, that "merchants want to allow customers to be able to do business and also practice social distancing, and being able to do that without needing to buy an entire new point of sale system."
Starai pointed out it's also a good time to focus on payment platforms with unified commerce capabilities, which allow for uninterrupted payment experiences across multiple channels. "If you have the right technology platform with capabilities in unified commerce, you will be positioned to help merchants that need to change their business models," he said. "The ISO community should become fluent in unified commerce. It offers a tremendous opportunity."

The Green Sheet Inc. is now a proud affiliate of Bankcard Life, a premier community that provides industry-leading training and resources for payment professionals. Click here for more information.
Notice to readers: These are archived articles. Contact names or information may be out of date. We regret any inconvenience.
Prev
Next