The Green Sheet Online Edition
October 28, 2019 • Issue 19:10:02
Evolution in payments: Three leaders' perspectives
By Dale S. Laszig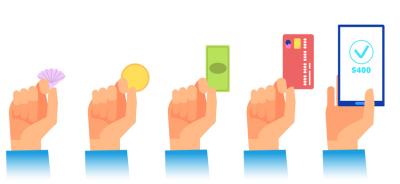 The vibrant payments industry provides abundant inspiration to analysts, journalists and thought leaders. Technology platforms replicate and scale as soon as they are launched; new buzzwords reverberate across blog posts, white papers and breaking news stories. And within this fast-paced environment products and concepts can easily become commoditized.
When trending topics like tablet POS, cloud-based platforms and digital transformation become commonplace terms, we can get lulled into complacency. Words lose their meaning; sales pros lose their edge. Innovators avoid the commoditization trap by looking ahead and asking hard questions. How far can we go with today's technology? How can we apply yesterday's key learnings to future challenges and opportunities? What types of payments will we be offering tomorrow?
The Green Sheet asked three industry leaders to share their professional journeys and visions for tomorrow's transactions. Their insights point toward an increasingly mobile, global and rewarding future for merchants, consumers and service providers.
How I found payments
Katherine McClure, director, business development at PPRO Group, brought first-hand merchant and consumer experience to her prior role on the TSYS innovation team, where she worked at getting people to step out of their comfort zones and connect with others. "I had previously worked in the cosmetic industry – back in the days of knucklebusters and mag-stripe cards," she recalled. "We tried to make customers feel beautiful and appreciated, but after having an amazing shopping experience, they had to pay for stuff, and that became a source of friction."
Daniela Hawkins, principal consultant at Capco, observed her professional payments journey is closely aligned with her personal preferences and the cards in her wallet. Her consulting work afforded Hawkins an opportunity to see the banking world through a community bank's lens. "One of my first projects involved a large credit card portfolio conversion," she said. "A second project was moving a digital work stream … as we built a rewards program."
Sandy Travers, co-CEO and head of product and risk at DigiPay Solutions Inc., traces her fascination with secure communications to her work with the U.S. Department of Defense. "San Diego is a big defense town; many wireless communications began in the military and evolved into tech startups," she said. "Dealing with secure communications for DoD companies led to my launching a tech-focused search firm. My brain is always wired to look into the future because that's what I have spent my career doing, working with smart people who taught me to think differently."
Merging old and new
Travers pointed out that bold, innovative technologies created long ago are finally achieving mainstream adoption. "So much technology comes out of the military," she said. "Sony and Alcoa were experimenting with virtual reality and encryption technologies 30 years ago."
Travers is fascinated by the convergence of payments apps and mobile wallets. Mobile wallets provide a secure, convenient way to pay because they consolidate loyalty, rewards and physical credit cards and use advanced tokenization and encryption to thwart fraud, she noted.
After launching an ISO and fraud prevention platform, she designed DigiPay, a dual-facing digital wallet that can be used by both merchants and consumers. "I tend to be very laser-focused when bringing out a new product," she said. "I choose vertical partners to launch with – in this case, a healthcare service provider."
Travers expects merchant adoption of the DigiPay mobile wallet to drive consumer adoption. She noted, for example, that when "ABC Healthcare" collects card-present payment at the time of service, it can also direct patients to a secure portal where they can set appointments and manage future payments. The DigiPay wallet's built-in marketplace supports third-party mobile apps. An in-app payments feature enables home healthcare providers to create secondary income streams by selling exercise equipment and health and wellness products, Travers added.
Bridging generational divides
Hawkins emphasized the need to understand consumer preferences across diverse demographic groups, a critical requirement when designing top-of-wallet loyalty programs. "When financial institutions graph different age groups, millennials and boomers are the biggest arches, and their behaviors could not be more different," she said. "Millennials tend to be more responsive to targeted offers from stores and brands than boomers or GenXers. And GenZ behind them want to use rewards to give back to a cause or pay down student loan debt."
After 15 years of working in every facet of loyalty program design, Hawkins would like to see loyalty and rewards programs become interoperable and seamless. "Hotel points are typically redeemed for hotel stays but should be transferable," she said. "Statement credit and cash-back rewards are the most highly redeemed but can be a cumbersome process."
Redeeming points for cash can feel more like paying a bill than getting a reward, she noted. It feels different than cashing in points to get a free flight, which ties that rewarding feeling to a specific card or airline. Hawkins recently worked with a financial institution in a big college football town. "The bank tied their loyalty program to the college team because so many consumers were fans," she said. "Customers could use their points to get a signed football jersey. This localized redemption option had never been done before and was highly successful."
Thinking global, acting local
McClure sees a massive opportunity in cross-border payments. "Americans pay with Visa and Mastercard when we travel around the world, but that isn't always how people in other countries prefer to pay," she said. "WeChat Pay is popular in Southeast Asia's cash-based economies; Europeans love their bank transfers. Part of my work is around changing the paradigm of how people think about payments."
People tend to think of innovative new technology as a shiny new object, but it can also be about connecting dots and helping merchants expand, McClure noted, adding that peer-to-peer, real-time and cross-border payments are really about connecting dots. In Southeast Asia and Latin America, numerous people are living cash-based lives. They may select a cash-based payment method when they check out online and then go to a bank, convenience store or pawn shop to pay with cash to complete their transaction and arrange for their goods to be shipped.
"Not having a bank account has not been a roadblock to ecommerce in many parts of the world," McClure said. "Amazon has teamed with Western Union to enable consumers to pay with cash for millions of products. Users can select 'PayCode' when checking out on Amazon.com and go to local Western Union agents to pay for their purchases. As payments innovators, we invent many things, but the most useful solutions are the ones that fit into people's lives."
Mobile, global, rewarding
Advanced technology platforms make it easier than ever for consumers around the world to pay for products and services with their favorite payment methods, McClure stated. Connecting merchants, consumers and service providers through a single integration and platform will enable merchants to offer their customers the widest possible range of local payment types and secure, reliable services, she added.
Citing a Juniper Research study, Hawkins suggested that global adoption of mobile payments will reach 450 million in 2020, when more than half of U.S. consumers will likely use some form of mobile wallet. It's critical for companies and solution providers to provide point ubiquity and make points a common form of currency for the digital-first world, she stated. The technology exists today to enable multiple financial institutions to accept and aggregate points. Consumers could pool rewards from three credit cards for greater buying power.
Travers has long held that speed, security and interoperability are key considerations for mobile wallet service providers. The United States has been slower to adopt mobile wallets than any other region, mainly due to consumer concerns about privacy and security, she noted. As mobile apps and mobile wallets converge and proliferate, she expects digital payment schemes to become more platform agnostic, like Starbucks and Walmart apps that work on multiple operating systems. She envisions mobile wallets in the future that operate on a range of devices and support numerous payment methods.
A 2019 white paper by Capco and Bridge2Solutions, titled The New Loyalty Economy: How to Use Digital, Wallet-Linked Rewards to Re-invent Loyalty Programs and Boost Customer Retention, presents an optimistic outlook on the future of loyalty programs, especially for financial institutions and service providers that have the courage and vision to embrace change.
"As momentum builds for digital payments, more consumers are reaching for phones instead of physical wallets at checkout," researchers wrote. "This shift in behavior gives financial institutions a fresh opportunity to win the number one position in their mobile wallets – and get their cards to stay there. This is the pathway for card issuers to reap the rewards from their investments in loyalty programs, by making their brands more relevant, more engaging, and omnipresent in the lives of consumers."

Dale S. Laszig, senior staff writer at The Green Sheet and managing director at DSL Direct LLC, is a payments industry journalist and content development specialist. She can be reached at dale@dsldirectllc.com and on Twitter at @DSLdirect.
The Green Sheet Inc. is now a proud affiliate of Bankcard Life, a premier community that provides industry-leading training and resources for payment professionals. Click here for more information.
Notice to readers: These are archived articles. Contact names or information may be out of date. We regret any inconvenience.
Prev
Next