The Green Sheet Online Edition
August 12, 2019 • Issue 19:08:01
NAC leaders model the way to Capitol Hill
By Dale S. Laszig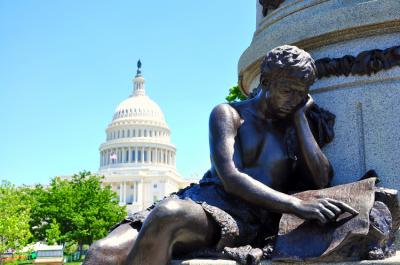 The National ATM Council Inc. held its third annual ATMs go to Washington event July 23 to 24, 2019. The nonprofit trade association for the independent ATM industry brought 50 members to the two-day event, designed to update government leaders on trending issues in the independent ATM sector. Participants included independent ATM owners, deployers, processors, service providers and constituents from every state. Meetings with committees and subcommittees were productive and meaningful, NAC representatives stated.
"Last week I had the opportunity to visit our nation's capital as part of a delegation from the National ATM Council," said Stephen Joseph, business development manager of banking at Axis Communications Inc., a security services provider. "We had two productive days of meetings with various congressional leaders where we provided insight and awareness regarding current trends in the financial industry that could have negative impacts on our nation."
Andrew DeLaMare, sales director, key accounts, at OptConnect, a managed wireless services provider, agreed the meetings were constructive. "Our primary target was the U.S Senate Banking & House Financial Services Committee members, and we were seeking broadened support in both the House and Senate for bills and reforms that protect the U.S. ATM Industry," he said.
Show up, be counted
Bruce Renard, NAC executive director, said the ATMS Go to Washington initiative helps government leaders and NAC members educate each other and find common ground. "With the success and widespread presence of ATMs, it's easy to overlook their history and the key role they play in American life and our collective economic future," he said. "Independent ATM entrepreneurs serve residents in what would otherwise be banking deserts in inner city and small rural communities across America."
George Sarantopoulos, NAC board of directors' chair and CEO of Access One Solutions Inc., stressed the need for trade associations to have a presence on Capitol Hill. "The work of any trade association involves more than preparing for an annual convention; it's also about participating in a million issues that inundate your members," he said. "You need to show up and educate people in Washington, and if you aren't there, people who oppose your views will get the floor. Whatever trade association you're in, whether it's HVAC, packaging or pet supplies, you need to get out there and educate government leaders about your business."
Establish local relationships
Sarantopoulos emphasized the importance of making connections. Interact with your local government officials, he stated, noting that it doesn't cost much to show up at a fundraiser and get a little face time with your representative. "It's surprisingly affordable to get on your representative's radar," he said. "You don't have to attend a $40,000-a-plate dinner; $500-a-plate fundraisers are just as effective for making your voice heard and showing them that you are part of the community."
Renard noted that it's important to have an industry association like NAC facilitate a meaningful campaign in Congress and Washington, D.C. "But there are numerous things that individuals can do at a local level," he added. He suggested beginning the process by reaching out to local representatives, who are "the backbone of their districts." Tell them you'd like to meet them, and ask to be put on their list for future events, he suggested. "The breaks are a good time to visit them and their staff," he said. "Tie in those connections with a presence in Washington so that members hear from you at home and on Capitol Hill."
Renard also advised creating a campaign at the grassroots level, with individual members becoming involved in government affairs. Participate in cocktail gatherings and fundraisers, and bring a check; like it or not, fundraising is part and parcel of Washington life, and while it's not the only thing, it's certainly a component of any successful public affairs, he stated. He also emphasized the importance of sticking with it, because it's an ongoing process that affects business, and you have to be in it for the long run.
Do your homework
In the months leading up to ATMs Go to Washington, NAC leaders worked extensively with committee members to craft a comprehensive agenda and ensure that at least two members would be present at each meeting.
Topping the agenda were promoting HR2650, a bill designed to promote cash acceptance in retail and hospitality venues; amending the Community Reinvestment Act (CRA) to obligate banks to provide deposit services to their communities; and calling attention to bank account closures that continue to affect NAC members, despite recent regulatory updates intended to stop the practice. Following is a high-level overview of each:
Payment Choice Act of 2019: HR2650, sponsored by Rep. Donald Payne Jr., D-N.J., addresses growing adoption of cashless policies by merchants who accept only credit, debit or digital forms of payment for on-premise goods and services. These cashless practices violate U.S. Code Sec. 5103 of Title 31, which maintains that U.S. coins and currency "are legal tender for all debts, public charges, taxes, and dues." This bill recommends adding a new Section 5104 to Title 31, that would prohibit U.S. merchants from refusing cash payments, posting signs stating that cash payments are not accepted, or from charging higher prices to cash-paying customers.

Citing an FDIC study that found approximately 6.5 percent of U.S. households are without bank accounts, which represents approximately 14 million adults and 6 million children, Renard said cash acceptance is critical to underbanked populations. By refusing cash, retailers shut out millions of unbanked Americans who do not have bank accounts and therefore have no means of making payment other than cash, he noted. He also pointed out that emerging cryptocurrency schemes have raised privacy concerns among consumers and security experts, and these issues have helped the Payne bill receive bipartisan support.

Community Reinvestment Act (CRA): The Community Reinvestment Act of 1977 requires banks to "demonstrate that their deposit facilities serve the convenience and needs of the communities in which they are chartered to do business." NAC members propose amending the CRA to ensure that alternative systems for delivering retail banking services, such as bank and nonbank ATMs and a variety of other phone and Internet services, are available to consumers.

Ideally, assessing a bank's CRA performance would entail considering whether the institution's practices restrict the effectiveness of alternative methods for delivering retail banking services. Historically, despite the Act's unambiguous statutory language, enforcement has centered more on financial institution activities in providing credit services than on providing alternative deposit services, NAC representatives stated.

Bank account closures: ATM owners and deployers must meet rigorous compliance and licensing standards but are still viewed as high-risk businesses by financial institutions, Renard said. Problems began with Operation Choke Point, an anti-fraud initiative that officially ended on Aug. 16, 2017, but led to stringent "de-risking" policies. These policies continue to inhibit NAC members and other business owners in designated high-risk industries from opening and maintaining bank accounts, according to NAC representatives. NAC continues to advocate on behalf of its members, working to eradicate OCP's unwelcome residual effects on the independent ATM community and resolve this emotionally charged issue, Renard stated.

Renard thanked House Financial Institutions subcommittee chairman Blaine Luetkemeyer, R-Mo., and senior House Financial Services Committee member Carolyn Maloney, D-N.Y., for their ongoing support. Their Oct. 17, 2018, letter petitioned the Comptroller of the Currency, FDIC and Federal Reserve, requesting an end to bank account closures, stating "there is no evidence or indication of any improper or unlawful conduct being undertaken in or through [independent, nonbank ATM owner/operator] accounts.

"The unfortunate reality is that this issue is not limited to independent ATM operators alone," wrote Reps. Luetkemeyer and Maloney. "Many other businesses, including amusement game operators and pawn brokers, among others, continue to lose access to financial services at an alarming rate. This is despite [the fact] that the overwhelming majority of them are licensed, supervised, law-abiding small businesses that provide valuable services to local residents and businesses throughout the nation."
Wear comfortable shoes
DeLaMare said he met with staff for Sen. Mike Lee, R-Utah; Rep. Cindy Axne, D-Iowa; Rep. Ben McAdams, D-Utah; Sen. Mike Rounds, R-S.D.; Sen. Kyrsten Sinema, D-Ariz.; Rep. Rob Bishop, R-Utah; and Sen. Ben Cardin, D-Md. "I was stunned at the turnout from this industry, not only that they showed up to represent their interests, but that they articulated facts from their own experiences that made an impact in creating laws that are fair and not discriminatory," DeLaMare said.
He was also impressed by the sheer size and scale of the corridors of power, stating, "[A]nyone who thinks representing your interests in Washington is easy has obviously never walked the several-mile trek back and forth between Senate and House buildings! My feet are still a bit sore from walking in dress shoes all over Washington, D.C."
50 more years
September 2019 will mark the 50th anniversary of U.S. ATMs. NAC will celebrate this milestone at NAC2019. The annual convention and expo will be held Oct. 15 to 17 at Planet Hollywood in Las Vegas.
"NAC has made a broad impact on the independent ATM industry, from advocating cash acceptance to ensuring that OEMs, distributors and operators are treated fairly," said Wes Dunn, vice president of sales at GenMega, an ATM manufacturer. "No matter where you stand in this industry's value chain, your success depends on people using ATMs. NAC makes sure proposed regulations are supportive of our industry."
Reflecting on the Washington meetings, Axis Communication's Stephen Joseph said cash acceptance is critical to disaster preparedness. "We believe in innovation and working toward technology adoption, but we want to ensure that we're being responsible in our approach," he said. "It's about innovating for a smarter, safer world."

Dale S. Laszig, senior staff writer at The Green Sheet and managing director at DSL Direct LLC, is a payments industry journalist and content development specialist. She can be reached at dale@dsldirectllc.com and on Twitter at @DSLdirect.
The Green Sheet Inc. is now a proud affiliate of Bankcard Life, a premier community that provides industry-leading training and resources for payment professionals. Click here for more information.
Notice to readers: These are archived articles. Contact names or information may be out of date. We regret any inconvenience.
Prev
Next