The Green Sheet Online Edition
March 12, 2018 • Issue 18:03:01
Payments' new tools: digital, diversified, dynamic
By Dale S. Laszig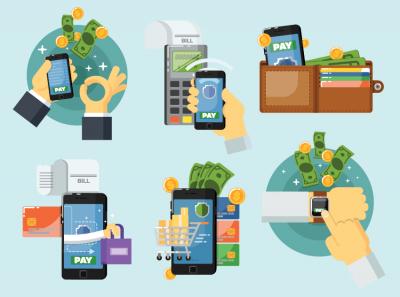 Payment technology is changing, and merchants are changing with it. Smart cards are replacing dumb swipes. Interactive conversations are replacing simple clicks. Mobile and cloud-based solutions are replacing single-use devices, delivering a consistent customer experience across in-app, in-store and online channels via smartphones, tablets, laptops and integrated systems. Merchants still need merchant level salespeople (MLSs), but not for term sheets and terminals.
Today, anyone can transact anywhere on any device. MLSs need new tools of the trade to help merchants compete in the digital world. This article explores our industry's evolution from countertop POS to specialized software, and from top-down systems to distributed service models. Industry experts herein assess the new payments value chain and its opportunities and threats.
Software and payments
"Software and payments are on a collision course, driving partnerships throughout the industry," said Greg Cohen, President at Paya, a payment processor and solutions provider based in Reston, Va., formerly known as Sage Payment Solutions Inc. Cohen described the company's rebranding as part of a technology-driven approach to helping merchants simplify and scale their businesses. He said Paya will leverage its enterprise resource planning (ERP) channel expertise by opening tools and application program interfaces (APIs) to partners. Paya's clients use ERP models to deliver common procedures across departments, divisions and supply chains, he noted.
"On the service side, traditional ISOs and ERPs require different training and tools," Cohen said. "A merchant may ship a terminal to an ISO if the help desk can't resolve an issue; ERP partners may troubleshoot routers and connectivity, but they're not going to send back their POS."
Duayne Haskett, Chief Executive Officer at Atlanta-based Defyne Payments, remarked on the influx of new technology companies entering the payments space. "These technically savvy companies need experienced partners to help them integrate payments into their software platforms," he said. "By merging our payments expertise with their technologies, our partners can deliver fast, simple, transparent services and support."
Haskett said it's important for MLSs to partner with companies that provide a multichannel approach to integration through a variety of partners. "One of our tenets is to redefine the agent experience by providing the tools they need to compete in specialized markets," he said. "Solution selling requires industry knowledge and payments expertise; the shotgun approach is no longer effective."
Hardware and services
"Broadband and wireless communications are replacing dial modems," stated Ben Wagner, Director of Product, Solutions at Ingenico Group, a global technology company with U.S. headquarters in Atlanta. "U.S. EMV (Europay, Mastercard and Visa) adoption has accelerated this trend, because EMV transactions take longer on dial."
Wagner said Ingenico's subscription offerings include app marketplaces, repair and warranty services, and estate management systems. Estate management software initially required on-site installation; most acquirers now use subscription models to manage their device fleets, he noted. "This industry was built on recurring revenue, which is easier to get if you're a service business, but harder if you're in the business of shipping boxes," he stated.
As the industry becomes more service-oriented, Wagner sees a need to educate agents to be consultative and understand merchants' distinct businesses and industries to help them solve pain points. "Complex software bundles provide value and customer longevity," he said. "Investing $100 in a software system is fundamentally different than spending $500 on a terminal that sits on a counter for five years. Flexible, pay-as-you-go options are less scary than massive upfront investments."
As he reflected on POS terminal evolution, Jeff Wakefield, Vice President, Americas, Sales Enablement at Verifone, said early devices with proprietary operating systems were priced to sell and expensive to update. Over time, reductions in computing costs enabled Verifone to create a secure, open system and rich development environment, while also maintaining reasonable price points. "For a manufacturer, building an individual solution for each acquirer means doing EMV 15 times," he said. "Building a common commerce solution means doing it once, reducing costs and improving capabilities, functionality and security."
Wakefield commended MLSs for their role in making credit card processing ubiquitous. He summarized their original value proposition to merchants as "increase sales by accepting credit and debit," which then evolved into statement analysis. "Then bundled pricing set a new ceiling, and the game changed to, 'Let us help you become more secure,'" he recalled. "With today's tablet-based POS systems, costs are under control, and old approaches don't work. MLSs need to move up and show merchants how to compete with chains."
P2PE and scans
Ruston Miles, co-founder and Chief Strategy Officer at Bluefin Payment Systems LLC, a payment security company, said moving into the cloud can impact an organization's security posture and ability to protect areas outside of its direct control. Atlanta-based Bluefin was the first provider to offer Payment Card Industry (PCI) Data Security Standard (DSS)-validated, point-to-point encryption (P2PE) as a standalone service and not embedded in payment processing, Miles noted. The company's patented, processor-agnostic platform helps OEMs, processors, payment gateways and major retailers optimize workflows across large roll outs and device populations.
Attaining PCI validation in North America "can be a rigorous process involving device requirements, asset tracking and chain of custody management," Miles said. "Fulfillment and logistics are complicated when you're rolling out thousands of devices; some merchants choose not to do it." He noted that Bluefin built a system to help merchants manage complexity and obtain P2PE through existing software providers.
Miles sees growing demand for P2PE in the post-EMV environment, as merchants recognize the value of end-to-end encryption. "In Europe, Visa requires P2PE on all mPOS," he said. "Online, your credit card data is encrypted on any browser; why not require it on credit card machines?"
Data can be difficult to encrypt or protect when you don't know where it is, noted Kailan Whitaker, Product Manager at Orem, Utah-based SecurityMetrics, a data security and compliance provider. "With so many connected devices on a network, it's difficult to search every nook and cranny where sensitive data is stored," he said. "Companies use our PANscan and PIIscan licensed solutions to find unencrypted PANs [personal account numbers] and PII [personally identifiable information] and patch holes in their networks."
Studies show PANscan has located more than 1.5 billion unprotected, unencrypted personal account numbers since it launched in 2010, Whitaker stated, noting that PANscan and PIIscan scan approximately one to three gigabytes per minute. "Business owners can click 'Scan Now,' and view results at the end of a workday," he said. "They invariably find data they didn't know was there."
Landline and mobile security
The PCI Security Standards Council stipulates merchants must protect cardholder data, whether it is printed, processed, transmitted or stored. Emerging technology companies are providing innovative approaches to protecting payment card data transmitted over landlines and mobile phones.
Semafone Inc., a global security company with U.S. headquarters in Boston, created a solution to remove payment card data from scope at call centers. Cardprotect shields payment card data in card-not-present (CNP) environments, call centers, live chat sessions and recordings. The patented, PCI-compliant solution uses dual-tone multifrequency masking to disguise dial tones and numbers, company representatives stated.
"Agents who work from home or at call centers never see or hear credit card data," said Graham Preedy, Product Manager at Semafone. "Credit card numbers entered on a phone will appear as stars or monotones and notifications when data fields are complete. Cardprotect's API simplifies integration with CRMs and hosted web pages."
Mobeewave, a global technology company headquartered in Montreal, designed a contactless payment solution that works on mobile phones. Launched in 2012, the company deploys its patented solution with ISO, payment facilitator and acquirer partners. It has entered into a strategic partnership with Samsung and has pilots in progress. "In this digital era, user experience is key," said Vincent Alimi, Chief Growth Officer at Mobeewave. "We're making it easy and seamless for anyone to accept money using their mobile phone."
Mobeewave facilitates PCI-compliant, peer-to-peer and micro-merchant transactions by leveraging mobile phone security and capabilities. "In contrast with traditional processing, micro merchants do not have to lease or buy terminals or pay monthly charges and PCI fees," Alimi stated. "They add the service to their smartphones' software and pay only when they use it."
Subscribe and pay-as-you-go
In a recent report titled Headwinds, Undercurrents & Tailwinds: How Equipment Finance Companies Can Learn and Benefit from the Fintech Phenomenon, the Equipment Leasing & Finance Foundation cited data analytics, mobile and cloud technologies as leading factors in the global movement from asset ownership to subscription services.
"Cloud technologies created inexpensive new data-storage facilities, while mobile technologies made it simpler to shop for and purchase many products online," report authors wrote. "Marketplace funding models have capitalized on these developments, offering electronic applications, documents, and signature capabilities, to reach and attract prospects. Fintechs also use proprietary credit-scoring algorithms to speed funding decisions." 
Deborah Reuben, President at Reuben Creative LLC, a technology consultancy based in Minnetonka, Minn., and contributor to the report, has seen forward-thinking equipment finance and leasing companies use modern technology to create flexible, usage-based financing. "Today's technical possibilities can make leasing business equipment as simple as a PayPal or credit card transaction," she said. "We're seeing an industry-wide shift away from owning assets and toward subscribing to essential business capabilities."
Wakefield said subscription models create pricing certainty. "It's easy to anticipate costs on a consistent basis when your maintenance, support and repair services are bundled into a monthly subscription," he said. "Verifone's subscription services include contactless, EMV updates and card brand mandates. The cost of these upgrades is spread out across your subscription base."
Chat bots and sales enablement
San Jose, Calif.-based magia.ai, an artificial intelligence startup founded in 2016, is an autonomous selling platform that uses virtual sales assistants to create a human-like shopping experience across online and in-store channels. The company initially launched its Cognitive Selling Platform in wine stores, a complex vertical category. "Not all wine specialists can match a user's need with the most optimal selection," said Cheng Zou, CEO at magia.ai. "magia not only helps find the optimal wine, but also explains to a user why it is so."
Zou pointed out that preconfigured responses and workflows can limit a selling bot's ability to engage with shoppers. Next-generation bots with enhanced capabilities can guide shoppers through complex decisions, choices, feature considerations and personal concerns. He noted that a magia virtual sales assistant can continually adapt to the shopper's thought process, using a combination of selling techniques and natural language dialog to create buying rationale by explaining how products match shoppers' needs.
Cohen cited sales enablement as a key differentiator for MLSs. In the tech-driven world of unified commerce, MLSs can help merchants navigate payments and one-on-one sales engagement, which Stripe doesn't do well, he acknowledged. "MLSs need to be more like VARs, by understanding the technology stores need and working with upstream partners to implement that technology," he said. "Focusing on markets they understand and solving key software problems is a better approach than trying to be all things to all people."
Wakefield suggested visiting merchants at peak business hours, looking for pain points, and then asking retailers how they would like to easily enable their customers to order by phone and pick up in store, for example, or ask restaurateurs how they would like to automate their waitlists, not with ugly beepers, but with elegant tablets that can keep track of who's there and send texts to their phones. "We need to move from being business cost consultants to business competitive consultants," he said.

The Green Sheet Inc. is now a proud affiliate of Bankcard Life, a premier community that provides industry-leading training and resources for payment professionals. Click here for more information.
Notice to readers: These are archived articles. Contact names or information may be out of date. We regret any inconvenience.
Prev
Next