The Green Sheet Online Edition
February 26, 2018 • Issue 18:02:02
Mobile centricity and the retail experience
By Patti Murphy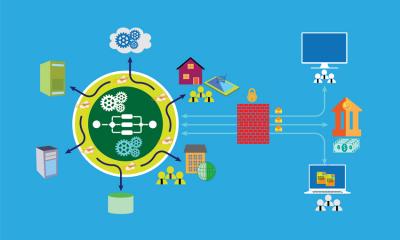 Demands for mobile connectivity and instant gratification are driving changes in retailing and payments. But these changes are not occurring in rapid succession. Stepping up the pace of change may require rethinking strategies to focus more on localized adoption and improved leveraging of technology and social media platforms.
"We've seen local iterations from companies like Yelp. But these are all national and global companies trying to figure out how to do things locally," said Bryon Evje, President of mobile app and platform provider Village Vesl. "To do local, you have to be local."
Headquartered in Alpharetta, Ga., Village Vesl is a two-year-old company that builds and supports mobile app platforms for real-time, location-based marketing and communications with a focus on local communities. It supports programs customized for three north Georgia communities. Its ambition: to license the service to entrepreneurs (like merchant services providers) in local markets nationwide, who in turn market the app to local businesses (for small monthly fees) and provide it for free to local consumers.
"We become their platform partner," Evje said, adding that his company handles the heavy lifting. The service even supports community–based loyalty programs. "It's a community-wide platform," he said. "It really does shrink the world."
Village Vesl uses location-based messaging, or "flags," to link consumers and businesses, a concept that entered the public consciousness in 2016 with the augmented reality game Pokemon Go.
"Messaging is contextual and relevant," Evje said. Businesses on the platform, for example, can leave flags advertising deals at physical locations around town; when an intended recipient approaches a relevant flag the person's mobile device reveals the details, providing context at a time and place that encourages a purchase visit.
Phil Nelson, Managing Member at Global Franchise Consultants in Peachtree City, Ga., said solutions like Village Vesl are ideally suited to small and midsize businesses that lack the money and infrastructures to support sophisticated digital marketing initiatives. "A platform like this makes [digital marketing] user friendly for these business owners," Nelson said.
Evje added, "It's a local service, branded for the local community, why wouldn't a local business want to be involved?"
Nelson noted that merchant services providers "are really well suited" to this type of mobile platform. "They already have a book of business and relationships with locals," he said. "This provides another arrow in their quiver to help cement relationships and sell additional products and services, and to attract new customers."
SIDE NOTE:Banks seek more mobile-payment converts
The race for mobile payments domination became more interesting with the launch of a new ad campaign by Zelle, the person-to-person mobile payment network backed by the nation's largest banks.
The ad blitz, launched in January to coincide with highly-watched shows like the NFL Playoffs and the Grammys, touts the fact that payments with Zelle can be originated from existing mobile banking apps. This eliminates the need for consumers to download special apps like nonbank offerings. (Think Venmo.)
Zelle has access to millions of consumers through partnerships with over 60 financial institutions, including some of the nation's largest — like Bank of America, JPMorgan Chase, Citigroup and Wells Fargo.
According to its owners, Zelle was used by consumers to make 247 million mobile person-to-person (P2P) payments totaling $75 billion last year. However, while the dollar total represented a 36 percent increase over 2016, it was only a fraction of the $624 billion in mobile P2P payments made last year, BI Intelligence noted.
Leveling competition
The payoff for small businesses that participate in programs like these is greater loyalty from locally conscious consumers. Increasingly, consumers say they want to patronize small, independent retailers because it provides a sense of community and belonging, stated Pamela Danziger, President of Unity Marketing, which tracks trends in shopping habits of affluent consumers. She said initiatives such as American Express Co.'s Small Business Saturday, which encourages shopping at community-based retailers and other small businesses, are indicative of this trend. She suggested any small businesses can potentially benefit from this trend.
"Owners of small retail shops often feel overwhelmed by the rapidly changing retail environment, with competition on all sides and most especially from Amazon," Danziger wrote in a recent blog post. "But small business retailers have a competitive advantage that none of these bigger, better capitalized and techno-powered retailers have: their personal touch. It is realized not just through the personal service that specialty retailers offer, but by being vital members of the local community. This trend will reshape the retail landscape over the next decade."
Brad Plothow, Vice President of Marketing and Head of Communications at Womply Inc., said the advantage for small businesses "is providing the customer experience that can't be matched by a large company."
Personalized, local and convenient services rank high with consumers. So does trust. And small businesses far outrank big businesses when it comes to consumer trust. A 2016 Gallup survey of Americans' trust in 15 "institutions" found only the military ranked higher than small businesses. Sixty-eight percent of respondents said they trusted small businesses "quite a lot" or "a great deal." Just 8 percent felt similarly about big businesses; 27 percent said the same thing about banks.
But what big businesses lack in personalized service and trustworthiness, they make up for with technology prowess. Most large retailers and ecommerce providers have customer relationship management tools that can track customer buying habits and preferences, generate push messaging and manage loyalty programs, for example.
"Large companies are finding ways to engage customers as soon as they leave their stores," Plothow said. Texting receipts to customers' mobile numbers is one example. "Small businesses don't have that advantage," he added. Even collecting email addresses during checkout can be a challenge for local shop owners, rendering it difficult to remain top of mind once customers leave their stores.
"Repeat business is the lifeblood of small business, but most brick-and-mortar shops don't have good ways to keep track of who spends money with them, let alone get them to come back," said Womply co-founder and CEO Toby Scammell.
Womply, a provider of customer engagement and business analytics software services, boasts that more than 100,000 brick-and-mortar small businesses use its technology and data solutions to reach tens of millions of customers. And its partner businesses include dozens of acquirers and ISOs. Recently Womply launched Engage, a cloud-based software service designed to automate and simplify how businesses keep track of customers and keep them engaged with virtually no work on the part of those businesses.
The process begins as soon as a customer uses a payment card at the POS. Womply captures the customer's name from the card (all in compliance with card industry security protocols) and automatically creates a customer file for that merchant. The file is populated with data about that transaction, as well as information gleaned from the customer's interactions with other Womply clients and social media feeds, and is continuously updated.
Womply then sends targeted customer engagement emails to keep a client business on the customer's radar. The software platform also provides various management tools to help businesses track customer engagement and value. Getting mobile ready for prime time Small business owners are by no means technology neophytes. Consider, for example, that 30 percent of millennials, the most technologically savvy generation, have launched small businesses, according to The Center for Generational Kinetics based in Austin, Texas.
Meanwhile, research recently completed by Advance Publications Inc.'s The Business Journals, a publisher of metropolitan business newsweeklies, revealed that wireless services and apps are considered by small business owners to be "very" or "extremely" critical to their business operations.
That same research suggested, however, that most small businesses aren't able to leverage these technologies for customer engagement. Only 34 percent of small business owners believe they are using mobile to transform customer experiences; 64 percent said their companies had websites; of those, 28 percent were unsure if those websites were optimized for mobile access.
The biggest obstacles to mobile engagement for most small businesses are time and resources, Plothow said. Technology partners offer a means for overcoming those obstacles to providing the kind of mobile experiences consumers want.
The mobile centricity of U.S. consumers is well documented. In 2017, the average adult Americans spent two hours and 25 minutes a day using mobile apps, according to eMarketer Inc. This year, the daily average is projected to reach two hours and 35 minutes. But consumers are selective, spending the bulk of their time using just five primary apps, several researchers reported. While the five vary by individual, they tend to be dominated by messaging, music, games and social networking.
"Word of mouth has gone online," Plothow said in discussing the impact of social media on business referrals. When looking for a new plumber, for example, fewer people are calling friends for recommendations; they turn instead to social media sites like Google and Yelp, he noted.
Mobile payment hiccups
So, what about payments? It's been four years since Apple Inc. launched Apple Pay, and since then numerous competitors have entered the market, including Google, Samsung, and a bank consortium called Zelle. Even big name retailers like Target and Walmart have rolled out mobile wallets.
But adoption remains lackluster for most. Only 27 percent of U.S. consumers with eligible iPhones were using Apple Pay last year, for example, and just 8 percent of those were using the payment app weekly. This is according to data compiled by First Annapolis Consulting, a division of Accenture. Activation and usage numbers are even more dismal for Samsung Pay and Android Pay, according to that data.
Auriemma Consulting Group reported that total mobile payment usage among all eligible consumers fell from 30 percent to 25 percent between October 2016 and October 2017. A report prepared last year by Forrester Consulting LLC for JPMorgan Chase also revealed falling usage.
In describing the situation, the report stated, "Consumer and merchant digital wallet adoption is taking a short break in preparation for the next wave of progress. At the end of this break, consumers will be more savvy and demanding and will have higher expectations as they see more capabilities emerge in digital and mobile payments, like order-ahead, self-service pay and instant coupons and reward redemption."
Many experts have suggested the sheer number of available mobile payment options stymies widespread adoption. Auriemma's research points to several other reasons, including consumer concerns about security and ease of checkout. Thirty-two percent of consumers surveyed by Auriemma in 2017 cited security concerns as a top barrier to using their mobile devices for payments. "In an environment of heightened consumer anxiety regarding data breaches, it is critical to clearly communicate mobile payments' security to consumers," said Jaclyn Holmes, Director of Payment Insights at Auriemma.
Keith McAuliffe, General Manager for Financial Services at Solace Inc., which specializes in data movement technology, added, "We're seeing a lot of companies focused on security concerns, and improving the customer experience."
McAuliffe is optimistic about the future of mobile wallets and mobile payments. He suggested that as millennials age, their strong affinity for all things mobile will draw them increasingly to mobile payments. He also pointed to the rising popularity of rideshare and restaurant order-ahead apps as trends that make paying by mobile seem more natural. "As that builds out, we'll see others becoming more comfortable with it," he said.
Forrester had this advice for merchants: "Be ready to capitalize on the increasing awareness and interest for not just a better paying experience, but a better overall shopping experience."

The Green Sheet Inc. is now a proud affiliate of Bankcard Life, a premier community that provides industry-leading training and resources for payment professionals. Click here for more information.
Notice to readers: These are archived articles. Contact names or information may be out of date. We regret any inconvenience.
Prev
Next