The Green Sheet Online Edition
February 12, 2018 • Issue 18:02:01
Megatrends to watch
By Ann Train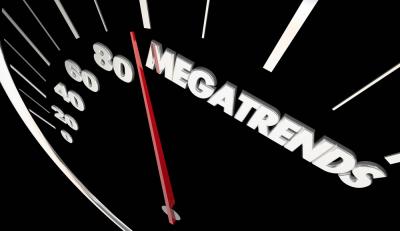 Payment professionals have an inside view of the extraordinary changes occurring in the world of commerce – both while contributing to transformation by developing game-changing products and services, and while learning to adapt and thrive in the face of disruption spurred by others. Knowing even more change is coming, The Green Sheet wanted to explore what megatrends are primed to shape global innovation and commerce in the next decade and beyond.
Research led us to Euromonitor International, which recently released summary findings from an extensive year-long study of significant consumer megatrends in Megatrends Analysis: Putting the Consumer at the Heart of the Business. The eight primary megatrends identified in the report represent fundamental shifts in behavior or attitude that will define consumer markets through 2030 on an industry-agnostic and global scale.
Spearheading the research were Zandi Brehmer, Head of Client Innovation at Euromonitor; and Sarah Boumphrey, Global Lead-Economies and Consumers Research. Making the final list were:
Shopping reinvented
Enhanced experiences
Connected consumers
Healthy living
Ethical living
Premiumization
Middle class retreat
Shifting market frontiers
Boumphrey cited shifting economic power, technology, population, environmental shifts and pressures, and changing values as key drivers of megatrends identified. Euromonitor also published in-depth research reports on individual megatrends. Contained herein are insights from the research team and industry experts with emphasis given to megatrends most likely to impact the payments industry.
Megatrend: Shopping reinvented
Pressures are being exerted on retailers marginalized by increasingly fickle consumers who, aided by technology, now have instant access to infinite choices. Shopping reinvented, by necessity, embraces the shopping journey holistically. Euromonitor defines this megatrend as encompassing such trends as experiential shopping, personalization, instant gratification, blended formats, value for money, seamless checkout, re-imagination of the last mile and new approaches to omnichannel engagement. A recent Boston Retail Partners survey of retailers found that 81 percent of respondents planned to implement unified commerce models within the next three years.
"Consumers need a reason to go somewhere; something they couldn't possibly get or experience through digital – and retailers who are able to cater to this need while simultaneously integrating digital into their product or service's story will see better engagement and, ultimately, sales," said Charles Desjardins, Executive Vice President and Partner at Absolunet. Retail models that engage consumers at the pre-purchase, purchase and post-purchase stages, deliver convenience and offer goods and services supportive of changing consumer values and lifestyles will be better positioned to capture these elusive shoppers.
Megatrend: Enhanced experiences
A shift in consumer values toward enhanced experiences is expected to lift spending on travel, leisure and food service to $8 trillion globally by 2030, according to Euromonitor. For frontline retailers, the real challenge will be to deliver consistent, effortless online and in-store experiences throughout the customer journey. "Experience more is putting the consumer at the heart of the customer journey, and not looking at everything through a transactional lens," said Caroline Bremner, Head of Travel Research at Euromonitor. "The experience economy is touching every aspect of consumers' lives from leisure, retail, banking, healthcare and education."
Bremner noted that even the most mundane products and services are undergoing experiential makeovers, embracing brand attributes that are difficult to replicate. Such attributes include authenticity, local, immersive, sensory, real, shareable, curated, customized, diverse, choice, practical, convenient, helpful and timely.
Desjardins agreed, adding that consumers are craving community-oriented experiences that are shareable. "With social media influencers assisting with brand placement, a big emphasis is now on how brands and retailers are assisting with that storytelling," he said.
Desjardins also pointed out that customers respond positively to fun, authentic and innovative in-person interactions. For example, Canadian parka brand Kanuk offers a cold room (-13 degrees Fahrenheit) for testing jackets in-store. The Home Depot Inc. conducts in-store DIY workshops to educate customers and encourage in-store spending on home projects.
Brehmer said brands need to consider what consumers experience from the point of discovery and guidance on options, to interactions in-store and at checkout, and after checkout, where relationship building continues, frequently through loyalty programs and special offers. "Experience happens on this spectrum horizontally at all touch points within the customer journey," Brehmer said.
Megatrend: Connected consumers
Euromonitor estimates that by 2030, three-quarters of the global population will have Internet access. IDC predicted 30 billion devices will be Internet-connected within the next two years. Advancing this megatrend, Mastercard recently partnered with the U.S. Agency for International Development in launching a public-private coalition to transform refugee settlements into digitally connected communities. "Digital connectivity has been a great societal equalizer, and it's enabled companies to reach new geographies and new consumers with their offerings," said Boumphrey, who considers data pivotal in the endeavor to build one-to-one relationships that meet consumer expectations.
Converting raw data into actionable intelligence means that artificial intelligence and machine learning will continue to forge ahead. "Merchants have tons of customer data, and you're going to see programs that try and glean things that are not obvious out of that data, and then provide either value-added services or product offers," said Scott Hess, Vice President of User Experience, Consulting and Innovation at Fiserv Inc.
With the capacity to process data at the periphery of the network, edge computing will resolve data processing speed issues for certain industries. However, because it opens a larger network area to potential cyberattacks, closer scrutiny of security protocols will be an essential piece in these distributed information technology frameworks.
"The most notable industry to benefit will be the automotive sector," said Sam Barker, Senior Analyst at Juniper Research Ltd. "With each connected vehicle generating large amounts of data, edge computing will enable networks to process this information at the edge of the network and reduce strain on operators' networks to enable a faster delivery of in-vehicle services, and in the future, an autonomous vehicle ecosystem."
Voice commerce, driven by further penetration of voice-controlled devices, such as Amazon Echo and Alexa, will increase demand for seamless order fulfillment. "Part of Amazon's strategy is to embed artificial intelligence and voice recognition into pretty much everything that it produces," Hess said. "We're working with Amazon and Google to leverage their technology rather than build it ourselves" for Fiserv's 60 million users.
Ian Bell, Global Lead-Home Care Research at Euromonitor, mentioned trust as a key metric in an era when the ability to collect, process and make sense of vast amounts of human generated data will rise exponentially. Companies that score well in this category will have endless potential to connect with consumers in meaningful ways.
Megatrends: Healthy and ethical living
Euromonitor estimates that spending on general wellbeing in key markets will reach $64 billion by 2021, bolstered by steady revenue growth in nutrition/drink products, herbal/traditional remedies, and affiliated small appliances, equipment and services. "Health has become a lifestyle choice," Boumphrey said. "Technology is obviously at the forefront of this shift. We're seeing healthy tracking diagnosis. It's also facilitating general health awareness and personalized prevention." Standout companies will be the ones that tap into consumer empowerment through self-education and communities connected to health, beauty and personal care. One such company is Helskinki-based CosmEthics, whose app empowers consumers to make safe cosmetic choices. Users scan a product barcode to reveal hazard or allergy profile warnings and recommendations specific to personal needs.
"The mission of CosmEthics is to promote cosmetic ingredient awareness, and help consumers make safe and suitable choices," said Irina Barbalova, Global Lead-Beauty and Personal Care Research at Euromonitor.
Food choices also factor prominently into this megatrend. "There's a greater demand for 'whole food' solutions to common health problems, but also we're still trying to crack the code of delivery and meal kits, and personalized menus," said Michael Schaefer, Global Lead-Food and Beverage Research at Euromonitor. "I think the manufacturer or retailer able to find that formula could unlock huge opportunities."
Brehmer noted that the definition of health has evolved to embrace mental health and happiness in addition to physical health and wellbeing. "Even hotels are now designing bigger spas and major workout areas, so it really is having a broad impact," Brehmer said.
An emphasis on ethical living is also expected to become more mainstream. One caveat on eco- and ethics-conscious consumption is that price points matter. "If ethical goods aren't provided within an affordable price range, then consumers still aren't motivated to translate this consciousness into actual purchases," Boumphrey stated.
Megatrends: Middle class retreat, premiumization
The global financial crisis of 2008 has had an indelible impact on the middle class, forcing many to retreat from conspicuous consumption to optimize limited resources. In her research analysis, Boumphrey found that middle class households in developed economies have not experienced any significant improvements in their standards of living since the financial crisis presumably ended.
Euromonitor has also seen a fundamental change in middle class consumers who are attaching less importance to the product/service itself than to having access to the product/service.
An Hodgson, Euromonitor's Income and Expenditure Research Manager, believes niche businesses focused on leasing and resale, product repair and refurbished goods, and low-maintenance, durable goods will benefit from this megatrend, as will premium goods and services with clear value propositions, and businesses that split services into sectors to leverage consumer preferences. Shrinking middle class consumption in recent years has led to the sharing economy, glorified frugality, the thrill of the deal, and trading up or down, all of which are expected to continue.
Premiumization as a megatrend embodies the power to spend more on the things that matter, according to Euromonitor. At the same time, consumers are expected to scale back on products and services deemed less relevant, creating attrition in segments that fail to address changing priorities among consumers who choose to exploit personal resources mindfully.
Euromonitor identified three main trends that will define premiumization as services that facilitate consumers' quest for time, grant permission to indulge in smart luxury, and help consumers build a "better me" either through health, experience or a sense of community.
Megatrend: Shifting market frontiers
The retreat of the middle class and slower growth in developed markets following the financial crisis has created a paradigm shift in the global economy. "We're expecting this trend to continue, with emerging and developing countries accounting for two-thirds of global GDP by 2030," Boumphrey stated. She noted that companies looking to expand globally will find opportunities in regions of Africa, second-and third-tier cities in China, the Arctic and even outer space, to name several.
Another related trend is the proliferation of convenience-based stores strategically located in urban areas, where population densities support local access to goods and services. Brehmer expects food and beverage, and health-related businesses with smaller footprints to perform well in urban centers.
Megatrends role in corporate culture
Understanding the fundamental market shifts underway and then integrating megatrends into corporate culture requires a thorough evaluation to identify key trends, scope market size, create prototypes and establish go-to-market strategies.
Brehmer advises clients to administer megatrends in five stages. The first step is to create a shortlist of megatrends to innovate against; most companies choose four or five, based on immediate and long-term potential. Next, determine megatrends to develop tactical insights on, and map the success of recent launches. Third, quantify the impact, identify opportunities, and rank each megatrend and its projected investment.
The next step is to map the company's current portfolio and innovation pipeline against the megratrend needs of tomorrow, identifying gaps that might be ripe for innovation. Finally, she recommends building a corporate culture that embraces megatrends and the requisite periodic reviews and adjustments as trends evolve. "If they're not thinking about it now, someone else is," Brehmer said. "That's the challenge."

The Green Sheet Inc. is now a proud affiliate of Bankcard Life, a premier community that provides industry-leading training and resources for payment professionals. Click here for more information.
Notice to readers: These are archived articles. Contact names or information may be out of date. We regret any inconvenience.
Prev
Next