The Green Sheet Online Edition
August 14, 2017 • Issue 17:08:01
Self-serve economy opens new sales channel
By Ann Train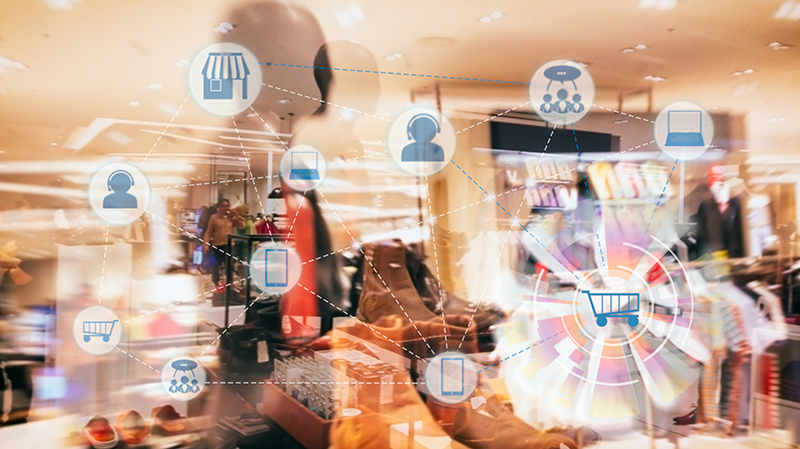 Consumer expectations and digitization are driving self-service as a promising sales channel for restaurants and for numerous other retail segments and professional services businesses. Pilot projects involving integrated technologies bundled in unique formats offer glimpses into the future of brick-and-mortar retail, where shoppers use mobile devices to navigate unmanned stores and complete purchases.
The Amazon Go concept store that opened earlier this year in Seattle enables shoppers with an Amazon Go app to add food and other grocery staples to a digital shopping cart, then pay and walk out without waiting in a checkout line. Equally ambitious, and a year ahead of Amazon Go, a Swedish IT entrepreneur opened a local Naraffar convenience store, providing an app that allows shoppers 24/7 access, as well as scan and pay convenience.
Stockholm, Sweden-based Wheelys Inc. acquired Naraffar in 2016 and recently began pilot testing an unstaffed concept store in Shanghai, China. Described as an autonomous convenience store, its mobile Moby Mart is self-driving, solar and electric powered, drone delivery landing-pad equipped, and may soon feature holographic virtual assistants to aid app-enabled patrons.
While testing of futuristic self-service concept stores continues, many enterprises are experimenting with self-guided shopping experiences, and how to revise labor tasks and repurpose floor plans to optimize productivity and accommodate this expanding revenue channel.
Order ahead
A major trend redefining the self-service sphere is the order-ahead movement. Mobile order-ahead apps – platforms that enable customers to remotely purchase items for in-store pickup – are rising, particularly among quick-service restaurants (QSRs). Business Insider predicted sales on these platforms will reach $38 billion by 2020.
"It's a new sales channel for restaurants," said Raymond Pucci, Associate Director, Research Services at Mercator Advisory Group. "It's what the drive-through window did 50 years ago. If you think about it, it's a third sales channel if you figure in-store ordering, the drive-through, and now mobile order and pay as the third sales channel."
Richard Crone of Crone Consulting LLC agreed, adding that order ahead is the ultimate self-service and literally every retail segment will have an opportunity to take advantage of order ahead in the future.
In the Mercator Mobile Order and Pay Ahead: A New Sales Channel for Restaurants and Merchants report, Pucci mentioned QSRs; casual dining establishments; aggregators; and traditional merchants, such as department, electronics and home improvement stores, as primary markets. CardFree and LevelUp were cited as potential solutions for large merchants and Olo's white-label program was suggested for smaller merchants. ChowNow and others offer white-label programs.
Crone noted that with 30 percent of its U.S. transactions now mobile, Starbucks Corp. positioned itself for mobile order and pay, which accounted for 9 percent of transactions in early July 2017 and is growing by half a percent per month. And spending by Starbucks Rewards' 13.3 million active users now represents 36 percent of its U.S. sales. Crone believes that within six to eight years, a majority of Starbucks' sales will be through order ahead.
Another franchise that has witnessed similar adoption rates is Panera Bread Co. Panera revealed in June that digital sales – those completed via mobile, web or kiosk channels – accounted for 26 percent of total company sales, surpassing $1 billion on an annualized basis and on track to double in 2019.
Since the Panera 2.0 digital order, pay and operations initiative launched in 2014, digital orders at the 2,000-plus location chain have increased to 1.2 million per week. In that time Panera has managed to shave wait-to-order time from eight minutes to one minute, and about 25 million people have joined its MyPanera loyalty program to date, according to Panera.
Despite progress being made by Starbucks, Panera and other leading self-service adepts, in-store logistics remain a challenge, especially for stores with smaller footprints. "The impact of mobile order and pay affects the process of the stores, the customer flow and so on," Pucci said. "They find that when people use mobile apps, they come in more frequently, and there's a higher average check."
App empowerment
While mobile wallets like Apple Pay, Samsung Pay and Android Pay have yet to generate scale in self-service and elsewhere, industry observers believe the arrival of IBM Pay's branded mobile payment, offers and loyalty app for merchants could alter the dynamics, as more consumers may soon come to realize tangible incentives for using them.
One development that has eased growing pains in the self-service economy is the rapid evolution of apps. For example, soon after First Data Corp.'s 2012 acquisition of Clover Network Inc., collaboration began on a series of Clover POS solutions that could easily integrate third-party apps after the apps were vetted.
"We opened the Clover App Market in 2014 and now have about 300 apps in the app market," said Mark Schulze, co-founder of Clover and Vice President of Business Development for Integrated Systems for the ISV Group at First Data. The Clover App Market offers both free and subscription-based apps designed for business, including order ahead.
Originally, apps were designed to provide concise features, such as age verification for age-restricted businesses. "The next stage is you started to see more complex things, like Homebase, a full-featured employee management app," Schulze said. "The third stage that we're seeing now is companies that are building their entire POS on top of Clover as an app," which has benefitted ISO partners who wish to lead in with bundled systems.
"We have some apps that have tens of thousands of installs and sales reps have told us that these apps really help them close deals," Schulze added. "I think the way merchants interact with customers is going to be fundamentally different in three to five years than they do today."
First Data has also developed custom enterprise-level solutions not available in the app market. "We worked with Chick-fil-A on the company's ecommerce channel and helped them build their app," Schulze noted. "One of the benefits of having an app on Clover is it's integrated at the point of sale so you can pop into another screen."
He added that with order ahead and other apps in the app market, restaurants and businesses can use the application programming interface to download and update menus or even stocked items, bearing in mind that naming normalization is important as abbreviations can be problematic for end users.
Screen time
Touchscreen pioneer Elo Touch Solutions Inc., which boasts over 20 million retail and hospitality installations in 80-plus countries, has seen increased interest in self-service applications and has partnered with software and peripherals providers to bring such solutions to market. From Elo's countertop system that flips from staff- to customer-facing to reduce wait times, to its 70-inch touchscreen, new use cases are taking shape.
Southern California-based chain Burger Boss installed wall-mounted Elo self-order kiosks inside restaurants that allow customers to build a burger on screen by tapping visuals of individual ingredients, make payment and then watch the burger being prepared in an open-style kitchen. According to Burger Boss, not only has this reduced line time at counters, but it has also created a novel experience for most first-time customers.
Because customers often arrive in groups and not everyone has an app or desire to order ahead, self-service screens on-premise can deliver the same digital experience for order entry. "For restaurants, order accuracy, basket size, a lot of those different analytical pieces are enhanced and increased because of that digital ordering process," said Luke Wilwerding, Director of Retail Solutions at Elo. A specially designed Elo touchscreen bracket, when attached to specific payment terminals, can power payments, he added.
Larger screens allow self-service to be part of an interactive journey. "When you think about digital menus, for example, not the overhead menus, but if you're in Las Vegas or areas where you might have an inside restaurant or you're walking by, you can now browse through that menu through a digital touch interface," he said. The quality of the food and surroundings can be conveyed onscreen, which invites customers in.
Home furnishings stores also have an opportunity to provide on-site screens that allow customers to review design ensembles in mockup settings before committing to purchase. Trained sales personnel can up-sell to make home décor additions more balanced or complete. The same technology can be applied in other high-ticket venues where path to purchase requires more time.
Professional services
For reservation-dependent industries such as airlines, and travel and hospitality businesses, online self-service has replaced labor-intensive, semi-automated systems. Similarly, in professional services, where booking billable hours is core, online platforms are beginning to make inroads. The salon and spa industry, considered an early adopter, has accelerated sales for Harbortouch, MindBody, Square, Vend and other vendors catering to this vertical.
More recently, developers have branched into other professional service segments, such as medical and legal offices, to help fill unbillable hours and better manage client schedules. Austin, Texas-based JustLegal created a platform that connects clients with lawyers online through a licensed scheduling service and directory.
In developing the platform, JustLegal overcame several issues lawyers face online, one being prequalification of clients at the point of acquisition. "We created a stronger contact form and a customizable intake form, said Francis "Frank" Burns, Vice President of Marketing for JustLegal. He noted that in legal services, everything must be secure and compliant. In addition to the calendar availability feature, the platform offers video chat.
Burns said JustLegal has seen a threefold conversion increase. "In other words, if 10 people were coming to your site and one was to become your client, we would expect that to turn into three if they were able to book right away," he said. Given the immediacy and convenience, clients book an appointment, thus ending their search. The scheduling app is mobile optimized and clients can pay legal fees online through its integration with LawPay, he added.
Market size up
Industry observers will closely monitor Amazon.com Inc. once the planned $13.7 billion purchase of Whole Foods Market Inc. is completed. "If Amazon can eliminate the checkout and at the same time improve the shopping experience because they know who the customer is and what their preferences are – and streamline that process – Whole Foods will be the next wave in super marketing," Crone said.
Digital touch-point innovations are expected to spread into every retail segment. "We do look at loyalty, brand experiences – all different ways of connecting the shopper to both the brand as well as to that ecommerce digital experience that carries with them after they leave the store," Wilwerding said.
Whether to rely on third parties to perform much of the groundwork for order ahead and delivery/pickup is an individual choice. "For the independent restaurant that doesn't have the resources and the national footprint, the aggregators like UberEATS, RushOrder and Grubhub are doing it for them, and obviously they have to give them a cut," Pucci said, noting that aggregators can also attract new customers and potentially increase same-store sales.
However, branding affords greater control and allocation of resources to attract new customers. "If you can get 1,000 to 2,000 of your best customers to download your own app and do order ahead, then you're communicating directly with those customers and you're not sharing that data with anybody else," Crone said.
Ultimately, ISOs may want to reevaluate the business they're in. "Are they in the payments business or are they in the order completion business?" Crone said. "If they're in the order completion business, they had better figure out how to get into order ahead, because waiting for the customer to be physically at the point-of-sale is only going to be a declining business."

The Green Sheet Inc. is now a proud affiliate of Bankcard Life, a premier community that provides industry-leading training and resources for payment professionals. Click here for more information.
Notice to readers: These are archived articles. Contact names or information may be out of date. We regret any inconvenience.
Prev
Next