The Green Sheet Online Edition
January 24, 2011 • Issue 11:01:02
Hiring trends to watch in 2011
Recent data suggest the employment outlook across major U.S. industrial sectors is positive. That's right. Positive. Early forecasts indicate stability in certain sectors and renewed interest in others set to rebound as the economy strengthens. Shifting employer confidence levels reflected in hiring activity is a key indicator of economic health. For merchant level salespeople and ISOs, upward trending segments can signal new opportunities.
An ADP National Employment Report indicated seasonally adjusted private-sector month-to-month employment grew by 297,000 in December 2010, with the service sector adding 270,000 new jobs, the largest monthly gain in the report's history. The Bureau of Labor Statistics Jan. 7, 2011, report showed nonfarm employment, including public sector jobs, also grew by 103,000 in December, with the largest increases occurring in leisure and hospitality and health care.
Positive projections
In the Manpower Employment Outlook Survey, United States, Q1/2011, over 18,000 randomly selected employers were asked, How do you anticipate total employment at your location to change in the three months from Jan. 1 to the end of March 2011 as compared with the current quarter? (The current quarter was the fourth quarter 2010.)
"The first quarter survey results reflect the strongest hiring expectations since the fourth quarter of 2008," said Melanie Holmes, Vice President Community Investment for Manpower Inc., which has published employment outlook surveys since 1962. The seasonally adjusted net employment outlook, at 9 percent, is 5 percent above the first quarter 2010. Eleven of the 13 industry sectors reported a positive net employment outlook, which is derived by subtracting the percentage of those who plan to reduce their work forces from the percentage that plan to hire.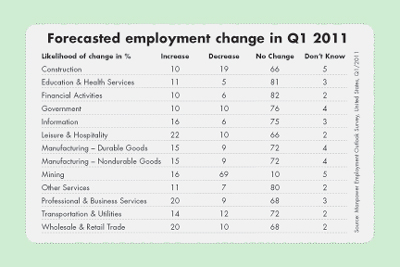 Manpower's first quarter projected employment outlook revealed that 14 percent of the respondents plan to add employees, 10 percent expect to cut jobs and 73 percent anticipate no change. "Those numbers aren't as great as we'd like them to be, but at least the trend for the past five quarters has shown positive survey results," Holmes said.
The strongest gains in hiring for the first quarter are expected in leisure and hospitality and in professional and business services. The wholesale and retail trade sector, though down slightly from the previous quarter, has shown steady progress. "The net employment outlook for that sector was 13 percent for the fourth quarter of 2010, and then for the first quarter of 2011 it went down to 10 percent," Holmes said. "Though it went down, it is still high on our list."
According to Holmes, the good news is tempered by the fact that the first quarter outlook remains nearly five percentage points below the average outlook for the past decade. She believes it could take years for the unemployment rate in the United States to return to previous levels of 4 to 5 percent.
Employee job confidence at this point closely mirrors that of most employers. According to Gallup's Job Creation Index, the net job market, which measures the difference between the percentage of workers who expect to see layoffs and the percentage who expect hiring to occur, was at 10 percent among the adults interviewed at the beginning of the year.
Over 24 percent of the hiring professionals surveyed in CareerBuilder's annual job forecast said they plan to hire full-time, permanent employees in 2011, up 4 percent from last year. According to the forecast, the greatest demand this year will be in sales, followed by information technology, customer service, engineering and technology.
The recruiter perspective
"I just attended a Visa presentation that was very intense on the economic figures," said Cihat Fitzgerald, Managing Partner for Cardgigs, a membership-based online job board for the payments industry. "They stated that by no means is a double-dip recession out of the question, but the chance of it happening is a lot less now than it was six months ago. In the past, our industry was very recession proof, but we're not unscathed by it like we were before."
Curt Hensley, Chief Executive Officer at Impact Payments Recruiting, has seen a reduction in the number of unemployed payment professionals over the past year. "The really good people, where companies folded or were purchased, have landed [jobs] throughout the year. It's more difficult for companies to find good people again, whereas in 2008 and 2009, people were a little bit easier to find.
"I think 2011 is going to be a nice growth year for the payments industry. Nothing explosive, but a nice growth year like 2010 was. I believe we will see the next step, where people more aggressively grow their businesses because they had more success in 2010."
One trend Hensley has observed is that employers are looking for individuals who can sell through multiple channels. "We're getting calls every week from companies wanting a good VAR channel developer or a bank channel developer," he said. "Those affinity partnerships are really key to developing bulk business."
Fitzgerald indicated most of the jobs he's seeing are bankcard-sales related. "In 2010, we saw that ISOs were, for the most part, hiring sales and marketing personnel - business development as well," he said. In a survey of Cardgigs clients, Fitzgerald found that none of his clients foresee major layoffs this year, and hiring of profit-based sales and marketing professionals will continue. Several payment companies surveyed plan to open additional offices this year, he said.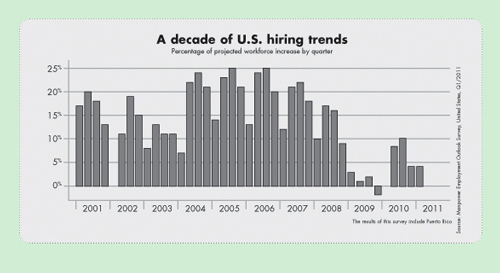 Hensley has also seen more payment companies expressing interest in increasing their market share in undercapitalized markets. Acquisitions and international growth are prime targets for several of Impact's larger clients that contract with Hensley to locate qualified individuals employed by other companies to facilitate corporate hiring initiatives.
In terms of merchant trends, Hensley said, "We're seeing people concentrate on government and utilities because they're more of a low-risk play. On the opposite end, we've seen people trying to expand what they're doing, where they've done very low risk and they're trying to get into a little bit higher risk. I've seen a couple of ISOs that sell to brick-and-mortar merchants expanding into e-commerce, while others are venturing into new vertical markets."
The ISO perspective
Since moving to larger quarters, Michigan-based North American Bancard's ranks have swelled to almost 400, and the company reports that further expansion is underway.
North American Bancard Corporate Recruiter Deb Fonseca said, "Our growth in number of merchants, coupled with our desire to offer industry-leading technology to our sales partners and merchants, have continued to create opportunities to grow our internal development, customer service and technical support teams.
"With two acquisitions in 2010 and more to come hopefully in the future, we are constantly looking for talented IT professionals and others to support the demands of our growing business."
The 2011 Global State of Information Security Survey, the eighth annual worldwide study conducted by PricewaterhouseCoopers in conjunction with CIO and CSO magazines, predicts significant job growth in risk management, application security, digital forensics, network security, wireless security and regulatory compliance, all of which are acknowledged to be essential to payments security.
Another trend among ISOs seeking to establish greater market share is branding. "Our brand recognition is something that's very important to our leadership team, so we're doing a tremendous amount of marketing from the inside," Fonseca said. "We've brought it 100 percent in-house at this point for not only North American Bancard, but all of our companies that we've acquired in the last few years have been a huge focus for us."
Considering the current evolution of payments, Fonseca added that flexibility is critical at this stage. Anticipating a surge in mobile payment adoption, NAB took the initiative by forming a strategic partnership with the University of Michigan's School of Engineering, sponsoring a 24-hour "Hackathon," where students were challenged with developing new mobile apps. The company now offers mobile application internships to students engaged in this promising field.
Boston-based Merchant Warehouse has seen significant growth in its agent and value-added-reseller partner channels. "Those are usually bigger companies, restaurants and larger retail brick-and-mortar storefront types of businesses," said Ryan Zdanis, Senior Vice President of Sales at Merchant Warehouse. "Over the last two years, we've grown substantially, and a lot of it has come from bigger affiliates that have sent their business over to us.
"Right now, we're looking to add about 35 internal salespeople on our direct side, which is our in-house internal sales channel. It's a pretty aggressive model in terms of growth for this year." Zdanis expects to see additional hiring of customer service personnel to support the projected influx of new merchants.
Federal initiatives
The federal government has recently enacted measures to spur economic growth, including The Tax Relief, Unemployment Insurance Reauthorization and Job Creation Act of 2010 signed into law on Dec. 17, 2010. It extends the Bush-era tax cuts for two years and provides new incentives for business investment and development.
It also slashes payroll taxes for most employees for one year to encourage consumer spending and further aid economic recovery. Employees will enjoy a 2 percent reduction in their share of the old age, survivors and disability insurance portion (the Social Security portion) of taxes in 2011. Instead of paying 6.2 percent, they now pay 4.2 percent. An individual earning $50,000 this year will realize a one-year payroll tax savings of $2,100.
According to a report published by the U.S. Department of the Treasury's Office of Tax Policy, the cost of capital on new investments under the new legislation will fall from 7.18 percent to 1.68 percent, which the department projects will accelerate $150 billion in tax cuts to 2 million businesses. The legislation provides 100 percent bonus depreciation to shift qualifying business investments into 2010 and 2011.
"Section 179 allows small businesses to count 100 percent of their capital expenditures for the tax year," Fitzgerald of Cardgigs said. "That is going to save companies a lot of tax money and give smaller or midsize businesses an incentive to spend more on hiring and less on taxes. I'm thinking that we will see companies take advantage of that in the coming year."
Still, many experts feel that more needs to be done. The Small Business Jobs Act of 2010 requires that a minimum of 23 percent of the total value of prime government contracts be awarded to small businesses. The American Small Business League calculated that small businesses now receive less than 5 percent, losing out on $100 billion in annual contracts. Sen. Mary Landrieu, D-La, estimated that increasing contracts to small business by just 1 percent would create over 100,000 new jobs.

The Green Sheet Inc. is now a proud affiliate of Bankcard Life, a premier community that provides industry-leading training and resources for payment professionals. Click here for more information.
Notice to readers: These are archived articles. Contact names or information may be out of date. We regret any inconvenience.
Prev
Next