The Green Sheet Online Edition
January 09, 2023 • Issue 23:01:01
Industry Update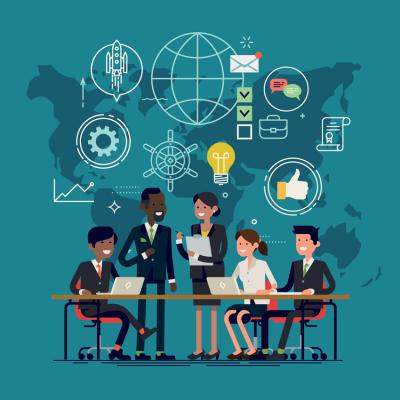 ANNOUNCEMENTS
American Banker seeks nominations for innovator award
American Banker launched a new celebratory program: Innovator of the Year. Nominations are now open and will close on Feb. 17, 2023. Finalists will be announced before the Innovator of the Year is named at the annual Digital Banking Conference, to be held June 12 to 14, 2023 in Boca Raton, Fla. This program is open to applicants who work at a bank, financial institution or financial technology company based in the United States while leading an innovative technology project in the past 12 months. Applications will be judged on leadership, teamwork, personal initiative and other professional qualities.
Brightwell honored in BIG Award for Business
Payments technology company Brightwell's fraud prevention and mitigation solution Arden received the Business Intelligence Group's BIG Award for Business and was named 2022's New Product of the Year. Brightwell launched AI-powered risk-detection engine Arden to provide near real-time fraud analysis and prevention. Arden provides usable, visible, relevant, and timely data in an easy-to-use interface so risk teams can get ahead of fraud before it occurs, Brightwell stated. Larry Hipp, CEO of Brightwell, noted, "We leverage new technologies and flexible architecture to build forward-thinking, future-ready software that scales with our clients' business and customer demands."
CFPB ruled unconstitutional, chargebacks escalate
The Supreme Court's ruling that the Consumer Finance Protection Bureau is unconstitutional (because of violation of separation of powers) caused unintended consequences: chargebacks are escalating and ecommerce businesses are exposed to economic fallout from friendly fraud, while financial institutions are caught in the middle, according to Monica Eaton, founder of Fi911, the sister brand of Chargebacks911 for financial institutions. Eaton is calling for new tools to resolve the discord between banks, merchants and consumers without unnecessary conflicts and mounting costs. "It's unknown how this news will affect chargebacks, in terms of consumer protection—it could really go either way, " Eaton said. "We know that without loosening the choke on financial institutions, much needed innovation is stifled."
Relay Payments recognized by logistics industry
Food Logistics, a publication covering the movement of products through the global cold food supply chain, and Supply & Demand Chain Executive, a publication covering global supply chain issues, selected Relay Payments as one of the year's Top Tech Startups and Top Software & Technology Providers. The awards spotlight the most innovative technologies designed for the supply chain and logistics industry. Today, more than 300,000 carriers and drivers use Relay including eight of the top 10 less-than-truck-load carriers, 10 of the top 30 full-truck-load carriers, the largest traditional and digital freight brokers in the United States, and 85,000+ midsize fleets and owner operators, Relay noted.
RESEARCH
Americans increasingly positive about gift cards
New research by cryptocurrency exchange CoinZoom revealed that 31 percent of Americans felt more positive about giving and receiving gift cards during the 2022 holiday season, compared to before the pandemic. In a survey of 4,000 Americans, ages 18 and older, researchers found that 28 percent of U.S. adults now buy gift cards once a month or more. "This changing attitude towards gift cards is being driven in large part by the desire to help friends and family members buy the goods and services they really need in the current economic environment, rather than giving a gift that ends up gathering dust in a drawer," CoinZoom wrote. Additionally, 47 percent of respondents who regularly buy gift cards indicated they now do so to enable the recipient to buy what they need; 19 percent said they buy gift cards as a gesture of goodwill.
Installment payments vault transaction value
Research released by Dutch buy now, pay later (BNPL) provider in3 found that transaction value increases by 72 percent when payments are made in three installments. The study Buy now, pay later in the 21st century investigated hundreds of thousands of orders to compare in3's payment method to other payment methods such as iDEAL, credit cards, debit cards and PayPal, researchers stated. Hans Langenhuizen, CEO of in3 said, "While we knew the average order value would be more when choosing in3, we didn't expect the difference between our payment method and other payment methods would be that much."
3h2RBR: ATM outsourcing a critical cost-cutting solution
RBR's Global ATM Market and Forecasts to 2027 study revealed that cash replenishment for more than half of the world's ATMs was outsourced to third-party providers in 2021. Researchers noted this figure is highest in North America where replenishment is outsourced for 81 percent of terminals. In the United States, it is common for ATMs to be installed in business premises, where ATM cash is refilled by the merchant as part of the installation agreement. By country, the highest level of cash replenishment outsourcing occurred in the Netherlands—a result of a shift in the country away from bank-deployed ATMs toward Geldmaat, a pooling agreement that outsources this service, RBR added.
OT should run cyber attack recovery, survey finds
A recent survey conducted by Salvador Technologies and published in Industrial Cyber Magazine indicated that 90 percent of respondents disclosed that the OT (operational technology) recovery process should be owned by OT professionals, not by IT. This is due to the considerable differences between OT and IT environments in the OT/ICS recovery process, Salvador found. Additionally, the report disclosed that 40 percent of respondents said the recovery process in their organization is owned by IT teams. This dissonance may put OT systems at risk for costly downtime following an attack, researchers found, adding that a considerable shift needs to occur to put OT/ICS recovery in the hands of the OT sector.
UK businesses most pessimistic about inflation
UK businesses expect to be hit the hardest by inflation, according to new research from Taulia. Forty-eight percent of UK businesses expect inflation to get worse in the next 12 months, higher than businesses in Germany (42 percent), Singapore (35 percent) and the United States (21 percent). Additionally, 87 percent respondent businesses expressed concern about inflation's impact on their business, and 42 percent of UK businesses predicted the current inflationary environment will continue for more than two years; 44 percent of UK-based businesses indicated they expect the inflationary environment to last between one and two years.
PARTNERSHIPS
ePN offers mRDC payment solutions through Paya
Payment software development company eProcessingNetwork LLC (ePN) partnered with Paya, an integrated payments and commerce solution provider, to offer its mobile remote deposit capture (mRDC) payment solution. Available through Paya and ePNMobile payment applications, the solution provides small to midsize businesses (SMBs) easy check acceptance functionality through their device's camera, ePIN stated. The company added that RDC is now a mainstay for many fully banked consumers and large businesses but remains a challenge for SMBs: paper checks continue to be a routine way that businesses receive payments, with check use increasing over the last three years in many B2B verticals. ePN affirmed that its solution simplifies the check deposit process and increases merchant productivity.
ING Germany to use Paysafe's cash service
Paysafe stated its cash arm, viafintech, established a partnership with Germany's third-largest bank by number of customers, ING Germany. More than 9 million ING customers can now make cash deposits or withdrawals from their current account at participating retailers across the country, Paysafe stated. The new cash feature, known as ING Cash (locally known as ING Bargeld), is available within ING's Banking to Go app. To use the service, the customer selects ING Cash in the app and chooses the amount they want to deposit or withdraw. This generates a barcode that can be scanned at one of more than 12,500 partner stores in Germany, and the amount can be deposited or withdrawn instantly, Paysafe added.
Lavu launches restaurant-focused agent sales program
Lavu, a POS software and payment solution provider, established an independent agent sales program focused on helping ISOs and merchant level salespeople (MLSs) grow their portfolios. The program is a collaboration with CCSalesPro and its CEO James Shepherd. Lavu and Shepherd said the intensive online program includes certification courses, webinars and newsletters to train reps in sales strategies that leverage free hardware and dual pricing to win lucrative restaurant deals, with lifetime vested residuals on an 80/20 split. Many restaurants are using legacy technologies that cannot support table-side ordering, delivery app integrations and loyalty/rewards tracking, the partners stated. Restaurateurs can access Lavu's suite of cloud-based business management tools using an iPad app, they added.
Paya, 1Retail team up on Acumatica Cloud ERP
Paya partnered with POS system vendor 1Retail to provide 1Retail access to EMV contactless and stored payments in Acumatica Cloud enterprise resource planning (ERP) software. Paya said its improved checkout experience offers best-in-class hardware and reconciliation of all credit card and ACH payments. The integration enables convenient EMV or contactless checkout and allows returning customers to make purchases from stored payment information in the Acumatica ERP without a physical card present, the partners stated, adding that Paya ensures PCI compliance by extending the P2PE solution across the 1Retail and Acumatica environments.
ACQUISITIONS
J.P. Morgan closes deal for stake in Viva Wallet
J.P. Morgan closed on a 48.5 percent ownership stake in Viva Wallet Holdings Software Development S.A., a cloud-based payments fintech in Athens. "We believe the European payments space is a major growth opportunity in the years to come," said Takis Georgakopoulos, global head of J.P. Morgan Payments. "With its strong platform and omnichannel merchant acquiring capabilities, Viva Wallet is primed to build on its leading position with small and midsize businesses in the region." This transaction, J.P. Morgan noted, reinforces its commitment to its European payments clients, as well as to the thriving technology and payments ecosystem in Greece.
NMI acquires Agreement Express payment solutions
NMI, a commerce enablement technology company, acquired Agreement Express payments solutions, including onboarding, underwriting and risk monitoring capabilities designed for current and emerging leaders in financial services. The joint offering enables ISV, ISO and fintech partners to sign up and monetize merchants more quickly and easily, NMI stated. Through this acquisition, Agreement Express expands NMI's capabilities by providing ISVs, ISOs and fintech partners with customizable risk scoring, automated data collection, compliance monitoring, ongoing Know Your Customer, anti-money laundering, and fraud screenings, the company noted, while further strengthening NMI's vision to enable payments from sign-up to payout.
VersiTech LLC acquires Ordyx POS
VersiTech LLC, a provider of restaurant POS software and hardware acquired Ordyx POS, which offers cloud-based, mobile POS solutions. The companies' joint goal is to serve customers and dealers with a new generation of POS technology that makes restaurant operations more efficient and profitable, VersiTech stated. The company further stated it developed the only custom suite of products made specifically for servers, bartenders, chefs and general managers. Ordyx POS developed a state-of-the-art POS solution for the food service industry, and the first cloud-based POS in the United States, VersiTech noted, adding that Ordyx offers a cloud-based POS solution with redundancies built in to handle the cloud going down, so that when the internet goes down Ordyx continues to function as if nothing happened.
APPOINTMENTS
ConnexPay hires Blair Jeffery
Payments technology company ConnexPay appointed Blair Jeffery to the role of chief operating officer. Describing Jeffery as a titan in the payments industry, ConnexPay said he brings with him more than 20 years' experience, having previously served as CEO at Vertical, executive in residence at LLR Equity Partners, and COO of Noventis from 2010 through the acquisition by WEX. During his tenure there, he managed a network of more than 5,000 bank relationships and 250,000 suppliers. He has also held senior operations and business development roles at other companies across the payments and fintech spheres. In his new role, Jeffery will lead all of the company's core strategic and operational teams.

The Green Sheet Inc. is now a proud affiliate of Bankcard Life, a premier community that provides industry-leading training and resources for payment professionals. Click here for more information.
Notice to readers: These are archived articles. Contact names or information may be out of date. We regret any inconvenience.
Prev
Next