The Green Sheet Online Edition
April 12, 2021 • Issue 21:04:01
Insider's report on payments: Interchange in the crosshairs
By Patti Murphy
ProScribes Inc.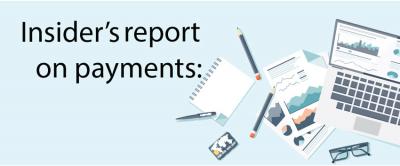 The major card brands are on the hot seat. Under pressure from Sen. Dick Durbin, D-Ill.,Visa and Mastercard postponed for a year interchange rate changes that were slated for April 2021. This followed news that the financial software giant Intuit is suing the two brands in federal court, alleging price fixing, and that the U.S. Department of Justice launched an investigation into whether Visa is stifling competition in the debit card market.
Visa confirmed the DOJ investigation following a Wall Street Journal report that antitrust investigators are gathering information to determine whether Visa is limiting merchants' ability to route debit card transactions over less expensive regional PIN debit networks, like NYCE and Shazam. The primary focus is online transactions but not to the exclusion of how in-store transactions are routed, according to sources quoted by the Wall Street Journal.
The Durbin Amendment to the 2010 Dodd-Frank Act, which ushered in regulation of debit card interchange, also requires that merchants be able to choose from two unaffiliated networks, such as Visa and the Shazam regional ATM/POS network, for routing debit card payments.
To accommodate growing preferences for debit cards for contactless and ecommerce payments, the various networks have come up with the option known as PINless debit. PINless debit is primarily used for low-dollar purchases. A 2018 Federal Reserve study put the average value at $37.76.
But there's a catch: for PINless debit to work, the card-issuing bank has to enable it through the card's bank identification number. And according to the merchant consultancy CMPSI, only about 50 percent of debit cards accepted by merchants had been enabled for PINless debit as of 2020.
According to the sources cited in the Wall Street Journal article, the DOJ, among other things, is looking into financial incentives Visa may be offering banks to not enable PINless debit routing through regional networks. In a filing with the Securities Exchange Commission, Visa said it had been informed of the DOJ investigation. "We have received a notice to preserve relevant documents related to the investigation," the company wrote.
On Sen. Durbin's radar
Sen. Durbin raised the issue of PINless debit in a July 2020 letter to Federal Reserve Board Chairman Jerome Powell. Citing CMPSI's analysis, he asked the Fed to investigate whether the large bank debit card issuers and the card brands are putting up unnecessary roadblocks to merchant choice in debit card routing.
"Because the volume of online 'card-not-present' transactions has increased dramatically during the COVID-19 pandemic, the need to address obstacles to PINless debit competition has grown more urgent," Durbin wrote.
Durbin, who chairs the powerful Senate Judiciary Committee and is Senate Democratic Whip, has been on a tear against the major card brands. Last month, he, along with Rep. Peter Welsh, D-Vt., fired off letters to the CEOs of Mastercard and Visa urging them to put the brakes on interchange rate increases hikes for the second year in a row. Both companies quickly acquiesced.
The two lawmakers made a similar request last year, which resulted in a one-year (now two-year) hold on increases. Both sets of letters complained that planned interchange increases for online purchases were a bad deal for small merchants who have been moving online in droves in response to the COVID-19 pandemic-related brick-and-mortar closures.
Last month, Durbin also delivered a stinging indictment of the two card giants during a Judiciary subcommittee hearing on competition policy and antitrust reform. Referring to interchange as "swipe fees," he argued it is "far in excess of any reasonable measure of cost, and far higher than what would [be] charged in a competitive market. But Visa and Mastercard are so dominant in the payments market that merchants couldn't stay in business without using their cards. Where is the policing authority to stop this duopoly from doing this to every merchant and retailer in America?"
No legislation related to interchange has been introduced in the current Congress. But given Durbin's leadership role in the Senate (as whip, he's the second most powerful Democrat in that chamber) he could push fellow Democrats to tackle interchange regulation as part of a larger legislative package, as was the case with the Durbin Amendment. And lawmakers on both sides of the political aisles have been vocally critical of the market power of big tech companies.
Antitrust concerns
It's not just Congress that has its hackles up, either. Two years ago, the Federal Trade Commission launched a preliminary inquiry into whether Mastercard and Visa were blocking retailers from routing contactless and mobile debit card payments through the regional ATM/POS networks. The FTC, which shares jurisdiction with the DOJ on key antitrust matters, has been mum on that since late 2019, but these investigations often take years.
In February, the financial software giant Intuit filed a lawsuit in federal district court against Visa and Mastercard, alleging interchange rate setting amounts to unlawful price fixing. Intuit, which in addition to being a card-accepting merchant, is also an ISO and a payment facilitator supporting millions of users of QuickBooks, the company's small business accounting package. This is the first time, to my knowledge, that any ISO or payfac has sued the card brands over interchange.
The Intuit lawsuit also takes aim at debit card routing, alleging Visa and Mastercard are thwarting choice in violation of the Durbin Amendment.
Last year, the DOJ sued Visa over its planned acquisition of Plaid, a fintech used by popular financial apps like Venmo and Square Cash that connects users to their bank accounts. Visa was prepared to pay $5.3 billion for Plaid, but backed down after the DOJ asserted the acquisition would further cement Visa's "monopolist" hold on the online debit market.
"Now that Visa has abandoned its anticompetitive merger, Plaid and other future fintech innovators are free to develop potential alternatives to Visa's online debit services," said Makan Delrahin, an assistant U.S. attorney in the Trump Administration, said at the time.
All this noise about debit card routing could force the hands of Congress and/or the Fed and result in some type of requirement being imposed on functionality that makes it easier for merchants to route debit card payments through regional ATM/Pos networks. Regulators in Australia gave banks until April 2018 to offer merchants such a choice or face regulatory action. Watch this space.

Patti Murphy is senior editor at The Green Sheet and self-described payments maven of the fourth estate. Follow her on Twitter @GS_PayMaven.
The Green Sheet Inc. is now a proud affiliate of Bankcard Life, a premier community that provides industry-leading training and resources for payment professionals. Click here for more information.
Notice to readers: These are archived articles. Contact names or information may be out of date. We regret any inconvenience.
Prev
Next