The Green Sheet Online Edition
February 24, 2020 • Issue 20:02:02
UX begins with U
By Dale S. Laszig
DSL Direct LLC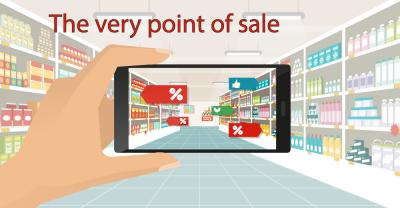 Improving the user experience (UX) is an established priority for merchant service providers, who strive to make commerce fast, simple and seamless. Advancements in B2C payments have transformed a single point of sale into myriad points of interaction, and many are finding their way into the B2B world. The Federal Reserve's faster payments task force and cross-border payments innovations reflect efforts to make business transactions as simple and easy as peer-to-peer money transfers or splitting a dinner tab among friends.
The marketplace is also changing as new technologies narrow the gap between giant brands and small merchants. This trend began about a decade ago, with the introduction of smart, affordable digital tools that enable small and midsize business (SMB) owners to compete with big brands. Plug-and-play solutions enable merchants to manage their businesses remotely through secure portals. Cloud-based, vertically focused subscription services are continuously updated, keeping solutions secure, compliant and relevant to ever-changing industry and individual requirements.
Today's merchants and consumers expect an excellent user experience without having to learn complicated new technologies or worry about equipment obsolescence. Mobile carriers have created subscription services to keep consumers in fresh, fashion-forward smartphones. Merchant service providers have built business-in-a-box solutions to help merchants improve efficiencies while staying up to date with evolving security, compliance and technology trends.
Cost of usership
Merchant level salespeople (MLSs) typically have an entrepreneurial mindset, which makes them ideal ambassadors for the new wave of subscription-based service offerings. Whether MLSs are independent contractors or employees, or manage horizontal territories or vertical industries, they understand UX is the basic foundation from which all commerce flows. By helping business owners and their customers have an excellent experience, they foster the trust and stability needed to solve complex problems, compete in crowded markets, and gain and retain customers.
MLSs also understand that being technology users can give them an inside edge with merchants. Payments pros who use digital solutions in their personal and professional lives can fully engage with customers and prospects by speaking from experience. Merchants enjoy chatting with fellow users who have first-hand knowledge of products and services. And today's mobile and digital apps are only a download away. These advanced, low-cost solutions work in stores, online and in mobile channels, making it easy to transact, improve efficiencies or launch a business.
Mobile and digital apps are designed to be transparent and simple, but the intelligence behind them is complex, especially in online marketplaces where transactions involve multiple parties. Sanjay Saraf, chief technology officer at Yapstone, reflected on the differences between legacy ecommerce models and the online marketplaces that power the sharing economy. "Before Yapstone, I worked in the traditional multibillion-dollar ecommerce ecosystem," he recalled. "The challenges back then for pure play ecommerce providers mostly concerned how to manage catalogs and pricing, which were very uniform."
One-to-many
Saraf noted that traditional ecommerce focused on the customer experience on the front-end and services for that known or anonymous consumer; marketplaces changed that by facilitating P2P transactions between anonymous buyers and sellers, who could be individuals or small businesses. Even large businesses are entering this ecosystem to find buyers for their services in a marketplace, he added.
"In the past, ecommerce was between two entities: the business and the consumer," Saraf said. "With marketplaces, we're seeing money movement among multiple entities: sellers, anonymous buyers, and marketplace creators with platforms that enable sellers and buyers to transact with each other. To participate in this landscape, banks can choose to partner with [creators], build capabilities similar to what we offer, or acquire fintech companies." Saraf noted that global marketplaces that serve anonymous buyers and sellers don't own their inventory. In addition to complying with local regulators and exchange rates, they must support multiple payments schemes, verify identities and onboard sellers with lightning speed, using AI, machine learning and algorithms.
MLSs who sell white-label and cloud-based solutions are like marketplaces. They don't always own their inventory. They leverage technology for fast authentication and onboarding and participate in a complex ecosystem of merchants, technology providers and consumers. As the gap narrows between big brands and SMBs, it's time for small and midsize service providers to think and act more like enterprises.

Dale S. Laszig, senior staff writer at The Green Sheet and managing director at DSL Direct LLC, is a payments industry journalist and content development specialist. She can be reached at dale@dsldirectllc.com and on Twitter at @DSLdirect.
The Green Sheet Inc. is now a proud affiliate of Bankcard Life, a premier community that provides industry-leading training and resources for payment professionals. Click here for more information.
Notice to readers: These are archived articles. Contact names or information may be out of date. We regret any inconvenience.
Prev
Next