The Green Sheet Online Edition
November 26, 2023 • Issue 23:11:02
Payments, a retrospective:


Merchant services: it's a family affair

By Patti Murphy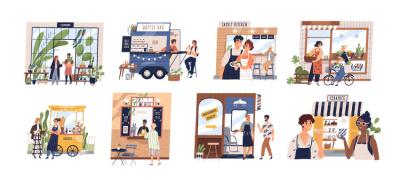 As a young man, Steven Morris never expected to join the ranks of merchant services professionals. "I fell into the payments business by mistake," he said, echoing a sentiment I've heard countless times from merchant services professionals.
But it didn't take long for Morris, now managing director at Gatlic Group, to realize he had a knack for selling merchant services and that he was good at recruiting. Eventually, Morris tried recruiting his son, Marq-Anthony Morris, but he just couldn't spark much interest with the 18-year-old. Eight years later the younger Morris changed his mind. "He's at a stage in life where he understands the lifestyle and freedom the job offers, and he's ready," Morris said.
Ashley Lewis, the mother of a two-year-old, said she, too, appreciates the flexibility that comes with being a merchant level salesperson. She and her mother, Cheryl, are known around Oklahoma as the Credit Card Ladies. "When I was pregnant, during COVID, I had the flexibility I needed," she said, and now that flexibility "allows me to do more with my son."
"At this point, I don't think either one of us would be able to work for someone else," Cheryl added. To hear Cheryl and Ashely tell it, the biggest obstacle to building their family business was establishing a proper work-life balance. "When we were living in the same house, we were always talking about work," Cheryl said. Then Ashley purchased a home about two miles away. "Now we have a better separation between our home and work lives," Cheryl noted.
Elaina Smith, CFO at Secure Bancard, understands. Smith and her husband, Kevin, the company's president and CEO, started Secure 12 years ago as a wholesale ISO.
"Our professional lives and personal ones are so tightly wound together, that it is impossible to separate them," she wrote in a recent LinkedIn post. "It's a challenge to shut down work talk at the dinner table, but our kids often insist, rightfully so. Has it been perfect? No. Has it always been easy? Heck no. Working with your spouse is not for the thin skinned. We hold each other to a higher standard." And it works, she added.
Tapping into a $100 billion market
Much of the draw for potential merchant services sales agents is tied up with the earnings opportunities. In a 2021 report, the consultancy McKinsey & Co. predicted U.S. merchants will spend more than $100 billion on payment services by 2025, fueled largely by small and midsize businesses.
The Visa network, alone, processed nearly $1.6 trillion in credit and debit card payments during the second quarter of 2023. To put that sum in context: at 50 basis points the residual payout on $1.6 trillion for the three months of the second quarter would have been $8 million. And that's just one card brand, and then there are the residual opportunities from value-added services.
In its report, Merchant acquiring and the $100 billion opportunity in small business, McKinsey noted that many of the value-added services ISOs and agents are selling come out of buyers' marketing budgets, which are less austere. "Meanwhile, as the payments business becomes more integrated into software, merchant-services providers can address larger value pools," the consultancy wrote. These pools include financial and non-financial services, like software, payroll services, financing, loyalty and advertising.
As McKinsey's consultants see things, the successful acquirers, ISOs and sales reps going forward "need to focus on tailored solutions that go beyond payments." Some of the most attractive verticals, based on McKinsey's analysis, include restaurants, a segment that charted a combined annual growth rate of 10 to 12 percent between 2015 and 2020, subscriptions (12 to 15 percent CAGR), and government and nonprofits (8 to 10 percent CAGR).
Sharing a passion for sales and service
Emily Karawadra entered merchant services at the age of 19, working in the chargebacks department at Concord EFS, which was eventually acquired by First Data Corp., which is now part of Fiserv. Karawadra worked her way through various departments and acquisitions, until she left as a director of sales. Today, she is chief financial officer at Tennessee-based Impact PaySystem; her husband, Dee, is CEO. Their three daughters also work there.
Cheryl Lewis has had a long career in sales. "I've sold timeshares, I've sold PIN pads, and I sold ATMs until we seemed to cover the market," she recalled. Lewis moved to Oklahoma to run a call center for Ameribanc, where her daughter Ashley also got a job as a recruiter. The call center was used primarily to set up appointments for outside sales reps, as well as some telesales.
Eventually, the center was shuttered, and rather than relocate, the mother-daughter duo became the Credit Card Ladies. A second daughter, Christina, helps out the duo in customer service. Ashley remembers vividly the first time she landed a deal on her own. "I approached it just like you said, Mom," she relayed to her mother during a joint interview with The Green Sheet. "And when they brought up an objection, I used the response you gave me, and it worked. I was so excited. I couldn't wait to call and tell you about my very own first sale."
Morris hopes his daughter, who is just 11, eventually will make her way into the business. "She talks with the servers at restaurants already about the equipment they use," he said. "She's like, 'Oh, you use Clover, what do you think of it?' Things like that. She thinks this is a fun job."
Emily Karawadra said all three of her daughters started out in their teens working at Impact. They began with "odd work, like data entry, filing and customer service," she said. Morgan Withee, her oldest, began working at the office when she was just 12; today, she is vice president of operations.
"Ironically [as a youngster, Morgan] used to beg me to answer the phone. She doesn't beg any more," Karawadra quipped. Here's what makes her the proudest, though: Morgan, she said, "shares the same passion for our customers, sales agents and partners! We could not be better represented with her running operations."
Building legacies
Kyle Thorpe, president of Infinity Payment Systems, got into merchant services by walking in his father's footsteps. His dad entered the industry in 1999 and established an ISO in 2001. "When I graduated from high school I decided to learn the business from A-Z, and I've been in it ever since," Thorpe said in response to a Facebook query. "Now with a team of 35, and growing, I wouldn't have it any other way."
He is not alone. "We are second generation, and when my daughter graduates from college in a year, her plan is to join the business, too," Trisha Van Ornum Handrich responded to a query.
Looking to the future, both Ashley and Cheryl, the Credit Card Ladies, are hopeful that other family members will join them, and not just the women. "We're building this business for the kids," Cheryl said. Ashley added, "This is something I can pass on to my son."
Morris has a similar game plan. "Eventually, I hope to turn things over to my son and daughter," he said. Dee and Emily Karawadra are also building for their children. "In building our ISO business, we always hoped that this would be a legacy business to pass down to our three daughters," she said. "With the legacy in mind, we have always tried to maintain a stellar reputation that our daughters would be proud to represent."
"Our kids are watching. If we create an environment where what we do is relevant, it makes a big impression," Morris said.
Future vision
"It is hard to articulate what the privilege of working together in a company that is ours feels like," Smith said. "A company we share a vision in. We decide the course together. And its course shapes our future."
While there have been challenges, the rewards outshine them, Smith added. "[T]here has been nothing more rewarding. Neither of us would be where we are today without the other. The company would not be where it is without what it is we each bring to the table," she wrote. "And the exciting thing is that even with everything we've accomplished, it still feels like we are hovering right on the edge of untapped opportunity."
A report on the global merchant acquiring market, released in October by Business Research Insights, suggested much of that opportunity will spring from increasing demand for digital payments, ecommerce, international commerce, and new and emerging technologies.
"The increasing adoption of digital payments, including mobile wallets and contactless payments, has been a significant trend," and merchants need to adapt to accommodate, the report stated, adding that merchants also want solutions that "seamlessly integrate with their existing systems, providing a smoother and more efficient transaction process."
A more secure process, too. "The increasing concern about cybersecurity and fraud has led to a demand for merchant acquiring services that offer robust security features," the report added. "Merchants are looking for solutions that can help prevent fraudulent transactions and protect sensitive customer information." The many families working together in payments are more than ready to provide those solutions.

Patti Murphy, self-described payments maven of the fourth estate, is senior editor at the Green Sheet. She also co-hosts the Merchant Sales Podcast, and is president of ProScribes Ink (www.proscribes.net)
The Green Sheet Inc. is now a proud affiliate of Bankcard Life, a premier community that provides industry-leading training and resources for payment professionals. Click here for more information.
Notice to readers: These are archived articles. Contact names or information may be out of date. We regret any inconvenience.
Prev
Next