Visa IPO largest in U.S. history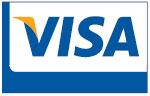 U
nderwriters pulled off the biggest stock sale in U.S. history as Visa Inc. debuted Wed., March 19, 2008, on the New York Stock Exchange – stock symbol V – at $59.50, up 35 percent from its initial public offering (IPO) price of the previous day, as investors bet on an accelerating shift to electronic payments.
The IPO priced on Tues., March 18, for a record-breaking $17.9 billion as the San Francisco-based card Association sold 406 million shares at $44 per share. Visa said that underwriters have a 30-day option to buy an additional 40.6 million shares.
Many analysts have high hopes and believe that Visa's success on Wall Street could breathe new life into a stagnant IPO market.
The deal could also produce a windfall for cash-strapped banks battered by troubled portfolios of mortgage-backed securities and the credit crunch. About $10.2 billion of proceeds would go to large Visa stockholders, which include JPMorgan Chase & Co., National City Corp., Bank of America Corp. and Citigroup Inc.
Some analysts, however, are skeptical about the timing of Visa's offering directly on the heels of JPMorgan Chase's buyout of global investment banking, securities trading and brokerage firm Bear Sterns Cos. Inc. for $2 a share on March 16, 2008. Furthermore, 2007 marked the highest level of defaults on subprime mortgages in ten years and a $33 billion pileup of unsold bonds and loans for financial institutions.
They argue that Visa is also losing billions from the outset of the IPO to pay off the out of court settlements for antitrust litigation between Visa and other credit card issuers.
Visa Chairman and Chief Executive Officer Joseph W. Saunders, in a statement released March 19, was more optimistic. "This is an exciting and historic day for Visa," he said. "It marks the culmination of a more than two-year process that led to our global reorganization and our becoming a public company.
"We believe Visa's new structure positions us to meet the changing needs of our merchant and financial institution clients around the world as we seek to enhance and grow the products and services we provide to our customers," he added.
As the market closed on its first day of trading, when it opened at $59.50 per share and saw a high of $69, Visa's IPO sold 177.05 million shares and closed at $56.50 per share, up 28.4 percent from its offering on Tuesday.
Day two
On March 20, 2008, Visa Inc.'s IPO underwriters exercised their over-allotment option to purchase the additional 40.6 million shares of Visa's Class A common stock at $44 per share, adding almost $2 billion extra in the company's coffers. After deducting underwriting discounts, commissions and estimated offering expenses, Visa expects net proceeds from the IPO to reach almost $19.1 billion.
On its second day of trading, Visa's shares rose $7.74, up 13.70 percent from the previous day, and closed at $64.24 per share, with 49.55 million additional shares sold by day's end.

The Green Sheet Inc. is now a proud affiliate of Bankcard Life, a premier community that provides industry-leading training and resources for payment professionals. Click here for more information.
Notice to readers: These are archived articles. Contact names or information may be out of date. We regret any inconvenience.