Empowering online sales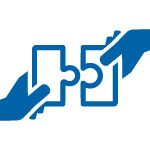 For the first time ever in 2017, ecommerce outpaced traditional over-the-counter sales during the holiday season. Thanks to years of patient cultivation and trust building, online merchants have finally won over the hearts – and pocketbooks – of the consumer.
In accordance, the idea of online selling is no longer a giant hurdle for the smaller merchant who wants to sell their wares on the Internet. Hundreds of tools now exist to help even the smallest of businesses build engaging, conversion-friendly ecommerce websites. These technologies also help merchants catalog and present products, offer real-time quantity, size, and color selections, and even showcase merchandise via live video links. Online marketplaces are also popping up everywhere, giving independent sellers and micro merchants a viable piece of the action.
"Regardless of the product or service, virtually every merchant in the world now has an outlet for selling online," said Bom Lee, vice president of sales at North American Bancard. "We're seeing a new age where the online customer experience is now driving all the other channels of retail business."
The brain behind the transaction
Behind every online transaction is a payment gateway. It is an elusive technology that operates in the background and somehow knows how to be the transaction gatekeeper, traffic cop, and data steward all at once.
Indeed, today's gateways are truly powerful engines. They are now equipped with far more functionality than their early predecessors, which were merely used for authenticating, authorizing, and batching daily transactions. The contemporary gateway does all this and more – warding off cyber criminals, encrypting vital cardholder data, and importing real-time payment data into other enterprise systems and a daily dashboard.
This said, not all gateways are created equal, and some are more suited for focused online selling than others. According to Lee, merchants who are serious about selling products online for the long term should consider choosing a gateway product that not only supports their selling needs today, but is versatile enough to support their evolving ecommerce needs.
One gateway for all
NAB's Velocity solution is one such gateway. Built to cover all the bases, the Velocity ecommerce gateway product offers all the basic gateway amenities, but also provides merchants with an array of value-added features that make growing an ecommerce presence a turnkey step in the business process.
Velocity is equipped with state-of-the-art encryption technology and built-in security features that warn merchants and their developers about potential intruders.
In addition, Velocity is pre-integrated with the top-ten shopping carts on the market, including Magento, WooCommerce, PrestaShop, WPE Commerce, and Open Cart. These shopping cart plug-ins are available to all Velocity clients for free and the feature is never subject to added gateway surcharges.
The Velocity hosted payment page model is one of the most progressive solutions available, with easy-to-use tools for every merchant – whether they're technically savvy or not – to set up a payment page on their ecommerce site. The "Buy Now" feature also enables these merchants to accept payments without assuming responsibility for the collection of cardholder data, ensuring compliance with cardholder regulations. The Velocity hosted payment page model is also the only cross-platform and cross-device hosted payment form that works seamlessly with both MasterPass and Visa Checkout.
In addition, Velocity is set up to link a merchant's website and Auth.net API directly into the Velocity stack for easier data management and hosted payment page control.
"All of the value-added features in the Velocity framework are available without an additional charge to the merchant," added Lee. "The product is one of the most flexible and affordable gateway solutions for online merchants."
From zero to online in one easy step
What's better than a payment gateway that does just about everything? Using a payment gateway that actually does everything – and more!
If you are not yet familiar with the NAB Velocity ecommerce gateway solution or would like to learn more about how this product's capabilities can be used to help your merchants grow online, go to gonab.com or call direct at 888.229.5229. Put the power of North American Bancard's ecommerce solutions to work for your clients!
---
Featured content specifically for North American Bancard:
North American Bancard empowers customer engagement with its Payments Hub Reputation Management tool
New verticals now open for North American Bancard Sales
North American Bancard Partnership with PayTrace Offers Exciting Ecommerce, B2B Opportunities
Reach your true potential as an NAB Integrated Partner.
Build your brand and your bankroll with NAB's award-winning Registered DBA Program.
Earn 36x Upfront with NAB's BIGGEST Residual Buyout Offer Ever!
Tough times call for unrivaled support
The Programs and Solutions Sales Partners and Merchants Need Now.
Easy-to-sell software integrations
Payment acceptance anywhere, in every way!
Maximizing the virtual terminal
Offering maximum value in a merchant portal
Harnessing the Future of Retail
Influencing the payments ecosystem
A 'customer-first' focus always wins
Breaking down EMV adoption barriers for SMBs
Eliminating EMV pain for restaurants
Online merchant enrollment made easy!
Take steps to advance merchant growth
Do you have access to the future?
Something fantastic for merchants!
Carving a smart path to the future
When the ETA talks, people listen!
The endgame in selling merchant services