A 'customer-first' focus always wins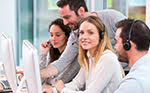 If you're a payments industry sales professional, you know a dedicated customer care team is one of the most vital ingredients to the overall merchant services package. Not only will this in-house team ensure each new payment solution is expertly installed and implemented into your merchant's business environment, but having a great support team also ensures each client is properly taken care of throughout the relationship.
Payments industry sales representatives also know that many processing providers do not keep their support program top-of-mind; let alone take steps to implement seamless and measurable customer-first practices. These companies often find out the hard way how their customer care program impacts the bottom line and long-term attrition rates.
"If a company has a customer-first commitment, it is evident in everything they do, and will ultimately result in great retention," said Justin Muntean, Senior Vice President of Sales at North American Bancard. "Regardless of how proficient a company is at selling, if their customer support team isn't just as proficient, customers will have no reason to stay."
'Year of the Client'
North American Bancard (NAB) recognizes the importance of backing up its sales and relationship management teams with a genuine customer-first mentality. In fact, in an effort to showcase this commitment, the company has deemed 2017 the Year of the Client.
While the trio of teams that make up NAB's Customer Care program - Customer Service, Technical Support, and Mobile Support - have always been robust and hands on, this year's concentrated focus to showcase the program, is in part, consciously reaffirming NAB's ongoing commitment to the customer. Each process, from sales support to account activation to day-to-day client service, is getting due attention.
And, in addition to reinforcing NAB's ongoing customer-first promise, the newly-focused initiative is introducing several new support measures; all designed to review, highlight and up-the-ante on existing practices and ensure the company's great support metrics can continue to improve.
Activation! Activity! Top of Mind!
These new measures include emphasis on a strong activation process. A dedicated welcome team has been designated to reach out to every single client at the onset of the support relationship and guide them through a smooth go live, ensuring the account gets up quickly and efficiently.
NAB sales partners have also been incentivized with new account activation bonuses and have been provided with new, more efficient onboarding tools designed to assist them and their clients with more streamlined and convenient activation steps.
In addition, the company has launched an enhanced education program for sales partners. All sales partners receive intensive training that walks them through every step of the on boarding process, and offers tips on how to utilize NAB's Agent Information Center and the Velocity Marketplace.
And, it doesn't stop here. A new, comprehensive webinar training series has been launched for NAB sales partners. Each sales partner is encouraged to move through NAB's entire webinar training library, ensuring they are intimately familiar with the company's onboarding and account management processes. With this knowledge, sales partners can expertly guide customers into a full solution package the first time and help the customer through critical steps that will expedite account activation.
A dedicated trainer has also been assigned to the sales department and sales partners have been counseled to consider this individual their own personal relationship manager and reach out at any time with questions.
"This newly concentrated effort is our way of ensuring every sales partner has a full understanding of all NAB has to offer a merchant and feels comfortable using our tools to facilitate smooth and seamless client deals," says Ryan Malloy, Director of National Sales. "It's a new approach to selling, and it was designed to create a best practice approach to teaching sales partners how to keep ahead of the customer's needs and bring the younger partners up to the level of our veteran team members."
Serious customer care can be fun
In addition to taking steps to reduce merchant effort by training all sales and support associates to raise the bar in every customer interaction, the company has also established a 'fun' call center environment. Customer Care Advocates take part in daily team-building events and activities, and are encouraged to collectively keep a positive and light-hearted call center environment.
The number of NAB Customer Care Advocates has also been increased by 29%, which has already resulted in an Average Speed of Answer (ASA) decrease of 50% at NAB. In an effort to reduce the wait time even more, Customer Care Advocates from across all three of the support groups are also being cross trained to support multiple service areas.
As NAB continues to showcase and celebrate its 'Year of the Client' initiative, company leaders invite industry representatives to consider how this unique approach to customer care sets NAB apart from other processing providers.
If you are interested in learning more about NAB, its customer-first focus and its sales partner program, please go to: www.gonab.com or call direct at 877-786-1653.
---
Featured content specifically for North American Bancard:
Payment acceptance anywhere, in every way!
Maximizing the virtual terminal
Offering maximum value in a merchant portal
Harnessing the Future of Retail
Influencing the payments ecosystem
A 'customer-first' focus always wins
Breaking down EMV adoption barriers for SMBs
Eliminating EMV pain for restaurants
Online merchant enrollment made easy!
Take steps to advance merchant growth
Do you have access to the future?
Something fantastic for merchants!
Carving a smart path to the future
When the ETA talks, people listen!
The endgame in selling merchant services