Online merchant enrollment made easy!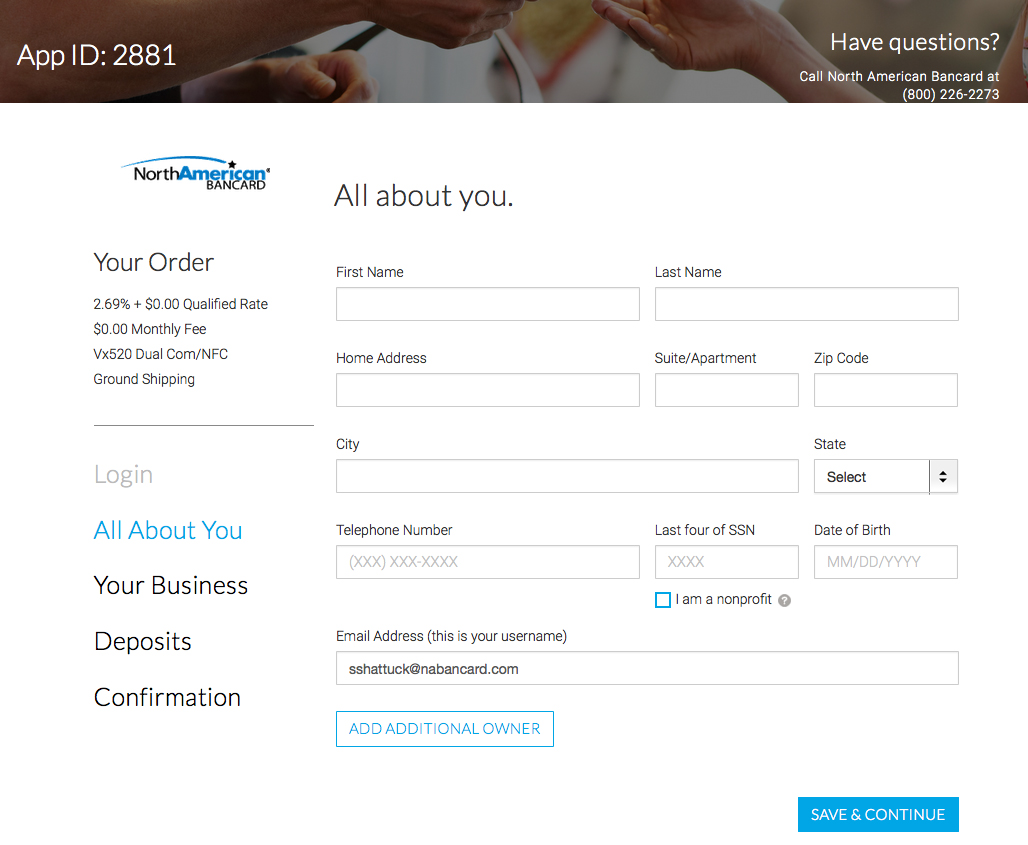 Online merchant applications aren't new to the payments industry. In fact, the marketplace has a wide variety, with each of them also offering varying degrees of automation. Few, if any, provide a true end-to-end automated experience that will guide an applicant from a self-service entry point all the way through to the underwriting approval process. Most online applications are complex, often patterned after the traditional paper application, and they require a great deal of data entry by the applicant or sales professional.
With this in mind, North American Bancard (NAB) set out to create a more streamlined type of online enrollment experience. Already known for its straight forward and easy to complete enrollment interface for boarding mobile merchants to the NAB PayAnywhere and Phone Swipe platforms, the company felt they could duplicate this streamlined experience for other customers. As a result, NAB has launched a simple, intuitive, online boarding application that ensures ALL applicants have a more convenient way to apply online.
A technology company first
"We're a technology company that happens to be rooted in the payments industry," said NAB chief executive officer and founder, Marc Gardner. "I cannot think of a piece of technology we've built that doesn't excite me, and this simplified application is a testament to our team's technological abilities, as well as the company's forward thinking values."
NAB's enhanced online merchant enrollment application, aptly named Simplified Enrollment, makes on-boarding for any type of NAB product, including credit card terminals and eCommerce solutions, simple and convenient for the merchant. Similar to the PayAnywhere online merchant application, the new online application offers clean, sharp designs and a smaller number of required fields. The sleek look and feel, as well as the easy to navigate interface, ultimately makes the on-boarding process more efficient and convenient for every merchant and sales partner.
Considered another revolutionary move by NAB, the Simplified Enrollment application process is expected to quickly replace what has been a predominantly manual application process at the company for traditional products; a process that has also required physical signatures and a large investment of time. The new process not only affords each merchant with a self-guided enrollment option, but it also gives the sales partner direct access to help initiate or complete the application on the merchant's behalf. Once completed, the sales partner just passes it to the merchant to validate their identity and input their digital signature, and the application is then submitted directly to underwriting. Once in underwriting, the application's review and approval status can also be monitored by the sales partner, completing the process.
Simplified Enrollment will even be integrated with NAB's pricing profiles, allowing sales partners to set the appropriate rates and fees for each merchant or use a standard pre-set plan and pre-fills the information into the application, further simplifying the process. This affords the merchant and sales partner with even greater efficiencies and a pricing model that can always be customized and trusted to be error free.
Personalize it!
Registered NAB ISOs are also able to promote a white labeled version of the Simplified Enrollment portal, offering their customers the same seamless on-boarding experience as those who enroll directly through NAB. Every step, from the first point of contact to the submission, is branded with the ISOs logo and color scheme to build brand equity and keep all merchant communication clear.
NAB's Simplified Enrollment process is just one more step the company has taken to assure every aspect of managing a merchant portfolio is enhanced by the best technologies available in the industry. "The new application process will make signing up merchants quicker and easier than ever before and we know a better experience for merchants only leads to more conversions for the sales partner," concluded Gardner.
If you are an independent sales professional who is considering a career move, North American Bancard invites you to take a look at www.gonab.com, or contact a sales partner representative directly at 1-877-786-1653.
---
Featured content specifically for North American Bancard:
North American Bancard empowers customer engagement with its Payments Hub Reputation Management tool
New verticals now open for North American Bancard Sales
North American Bancard Partnership with PayTrace Offers Exciting Ecommerce, B2B Opportunities
Reach your true potential as an NAB Integrated Partner.
Build your brand and your bankroll with NAB's award-winning Registered DBA Program.
Earn 36x Upfront with NAB's BIGGEST Residual Buyout Offer Ever!
Tough times call for unrivaled support
The Programs and Solutions Sales Partners and Merchants Need Now.
Easy-to-sell software integrations
Payment acceptance anywhere, in every way!
Maximizing the virtual terminal
Offering maximum value in a merchant portal
Harnessing the Future of Retail
Influencing the payments ecosystem
A 'customer-first' focus always wins
Breaking down EMV adoption barriers for SMBs
Eliminating EMV pain for restaurants
Online merchant enrollment made easy!
Take steps to advance merchant growth
Do you have access to the future?
Something fantastic for merchants!
Carving a smart path to the future
When the ETA talks, people listen!
The endgame in selling merchant services