Sales portal of the future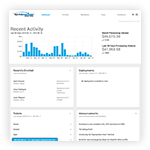 As a merchant services sales professional, you're painfully aware of the number of details you need to keep track of to monitor what happens day to day with each merchant account in your portfolio. Add in tracking things like annual PCI activity, the status of new applications, equipment deployment, changes in pricing, residual earnings, and other related details, and it can make your head spin.
How many times have you wished this information could be easily and quickly accessed from your mobile device? And, wouldn't it be great to be able to navigate through your sales portal with the help of friendly, well-labeled icons that are organized in a highly-intuitive, touchscreen format?
"At North American Bancard, we're constantly listening to the feedback we get from our sales partners and then turning their valuable input into practical applications that help make their working lives, and the sales process, easier," said Ryan Malloy, Vice President of Partner Relations at NAB.
Barriers removed
What NAB has learned from its sales force has enabled the company to build and launch a powerful Partner Portal application that offers its sales partners a refreshing way to access merchant account and residual earning information. The portal also gives every sales partner a set of automated tools for personalizing their pitch and attracting new business.
First, NAB created a mobile-friendly dashboard that puts all the information at the sales partner's fingertips whenever and wherever they need it. The portal's interface is fully responsive, so it can easily be used on any browser-enabled device, without the risk of formatting problems. The design is clean and touch-friendly, with a new navigation structure that has been intuitively formatted to guide the user directly to the area they want to do business.
The merchant manager section of the portal provides sales partners complete access to view critical information on their merchants such as PCI compliance, deployment details, terminal shipping information, and legacy/current pricing, along with basic merchant profile information. Sales partners are even able to set up customized merchant-level and/or portfolio-wide alerts to monitor anything from approval status to processing volume.
"Our newest Partner Portal release interfaces with NAB's merchant portal, bringing real-time information about every merchant straight to the sales partner's fingertips in the same intuitive format as the merchant's Payments Hub dashboard," continued Malloy. "Our beta launch of the new Partner Portal at NAB's Transcend sales conference last September was so well received, we were able to do a full-scale rollout before year end."
Prospecting and enrollment made easier
And, if having all your merchant status data accessible in a simple and easy-to-use mobile format isn't enough, it gets better!
Creating white-labeled sales estimates and enrolling merchants are also a snap using the NAB Partner Portal application. In fact, if you're focused on prospecting certain types of merchant industries or risk types, you'll love the commonly-used pricing and fee structures that have been preset into templates. The automated templates do all the calculating and guesswork for you, making the daily sales process far more efficient. There are even template-based settings for supporting merchants that need commonly-used payment terminals and/or have multiple locations.
The system comes with a series of base templates, and NAB sales partners are also trained on how to create and organize their own personalized templates, making the options for automation unlimited. Moreover, the portal gives each sales partner the ability to not only prepare, but also submit, a merchant application for approval online minimizing errors and maximizing time.
"The process is automated, which allows me as a sales partner to enter an application and get an approval within an hour," stated Greg T., NAB sales partner. "By entering an application online, there are less mistakes in data entry, which holds me 100% accountable."
NAB's digital marketing materials, customizable website templates, logos, and other assets used by the sales force are also easily accessed through the Partner Portal on a self-serve basis. This ensures the NAB sales partner has everything they need to be successful.
"I don't know of anyone else in this industry that offers so much information available to their merchants and agents," Greg T. continued, "I find it very helpful to my business and NAB is actively improving and adding enhancements based on our suggestions!"
Want a piece of the action?
If you've been thinking about checking NAB's sales partner program out and want to learn more about the products the company offers, NAB invites you to visit www.gonab.com or contact a partner representative at 888-229-5229. It's a great time to get on board with NAB to take advantage of its automated sales tools and partner-friendly programs. .
---
Featured content specifically for North American Bancard:
North American Bancard empowers customer engagement with its Payments Hub Reputation Management tool
New verticals now open for North American Bancard Sales
North American Bancard Partnership with PayTrace Offers Exciting Ecommerce, B2B Opportunities
Reach your true potential as an NAB Integrated Partner.
Build your brand and your bankroll with NAB's award-winning Registered DBA Program.
Earn 36x Upfront with NAB's BIGGEST Residual Buyout Offer Ever!
Tough times call for unrivaled support
The Programs and Solutions Sales Partners and Merchants Need Now.
Easy-to-sell software integrations
Payment acceptance anywhere, in every way!
Maximizing the virtual terminal
Offering maximum value in a merchant portal
Harnessing the Future of Retail
Influencing the payments ecosystem
A 'customer-first' focus always wins
Breaking down EMV adoption barriers for SMBs
Eliminating EMV pain for restaurants
Online merchant enrollment made easy!
Take steps to advance merchant growth
Do you have access to the future?
Something fantastic for merchants!
Carving a smart path to the future
When the ETA talks, people listen!
The endgame in selling merchant services