Payment acceptance anywhere, in every way!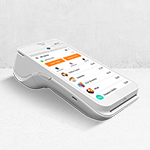 If you already represent the robust suite of North American Bancard (NAB) products, you and your merchants are no doubt enjoying all the benefits of the NAB Payanywhere platform.
If you don't yet sell NAB products, it's a great time to learn more about the latest advantages of the Payanywhere software application. In fact, this software is more nimble and powerful than ever before, and it also includes a visionary combination of merchant business tools.
"North American Bancard designed and built the Payanywhere application," said Jim Parkinson, NAB Chief Information Officer. "As the sixth largest non-bank merchant acquirer in North America, this means we've put in the time to learn the intricacies of the payments industry and beyond, and we know how to make payments products that work for businesses."
A full-service vision.
The Payanywhere concept began with a vision to create "smart solutions" for merchants. Launched in 2011, the original Payanywhere product gave merchants a competitive and affordable alternative to other mobile payment systems, and it has matured into one of the most robust and ubiquitous merchant software applications used in the marketplace today.
The latest version of the Payanywhere application has simplified the payment process even more by separating the experience into three basic parts:
The Payanywhere software application (both iOS and Android compatible).
A point of sale hardware system.
A merchant portal that allows business owners to manage payment data, customer information, employees, accept online payments with a free virtual terminal, and send invoices.
The Payanywhere application works on a host of hardware devices and is powered by NAB's in-house payment processor, Electronic Payment Exchange. This enables the merchant's payment system to be configured simply or as feature rich as needed for the company's current set of business needs.
"We also built EPX from the ground up, so we know all the ins and outs of the technology," continued Parkinson. "We're able to build and support what we've created to ensure the merchant won't get lost in the shuffle of large, third-party processors."
The Payanywhere system has also been designed to easily scope and scale for the merchant as their payment needs change, providing easy and efficient upgrade capabilities, including turnkey hardware system changes.
Everything in one package.
Payanywhere is easy for the merchant to understand and use, and it makes an elegant and well-appointed addition to any business technology package.
The software, hardware, and business management tools included in the package give retail, quick-serve restaurants, and service-based merchants a host of convenient tools for accepting card-based payments securely, accurately, and conveniently.
Payanywhere features include:
Real-time transaction reporting.
Detailed reporting and chargeback management.
Customer review monitoring.
Inventory management and bar-code scanning.
Magstripe, EMV chip, and contactless payments.
Android/iOS SDK with easy integration.
Virtual terminal for card-not-present transactions.
Emailable invoices for recurring payments.
Tickets and open tabs.
Offline transactions.
Email or SMS text receipts
Partial payments, void transactions, or issue refunds.
Identifiers for restaurant sections and employee assignments.
Employee management tools.
Pre-programed terminal themes based on the merchant's needs.
While merchants can create their own point of sale using their smartphone or tablet, NAB has recently released a host of hardware options you can offer your merchants that support the Payanywhere application:
Payanywhere Smart Terminal (PAXA920) – a wireless terminal for mobile payments, but it acts just like a traditional terminal with some strong enhancements.
Payanywhere Smart Point of Sale (PAXE500) – a countertop solution that acts more like a full point of sale.
Payanywhere 2-in-1 Bluetooth Credit Card Reader for iOS or Android that accepts magstripe and EMV chip payments.
Payanywhere 3-in-1 Bluetooth Credit Card Reader for iOS and Android that accepts magstripe, EMV chip, and NFC payments.
Point-of-sale printer with cash drawer and barcode scanner.
Back-kitchen printer.
Coming soon: Payanywhere Flex (PAXE600) - A hybrid terminal that's a little bit terminal and a little point of sale. The perfect mobile or countertop solution.
Best-in-class payment solutions for your merchants.
If you would like to know more about NAB's product line, it's continued vision for the Payanywhere product and/or you want to explore a selling partnership with NAB, you're invited to visit gonab.com or contact the NAB partner support team directly at 888.229.5229.
---
Featured content specifically for North American Bancard:
North American Bancard empowers customer engagement with its Payments Hub Reputation Management tool
New verticals now open for North American Bancard Sales
North American Bancard Partnership with PayTrace Offers Exciting Ecommerce, B2B Opportunities
Reach your true potential as an NAB Integrated Partner.
Build your brand and your bankroll with NAB's award-winning Registered DBA Program.
Earn 36x Upfront with NAB's BIGGEST Residual Buyout Offer Ever!
Tough times call for unrivaled support
The Programs and Solutions Sales Partners and Merchants Need Now.
Easy-to-sell software integrations
Payment acceptance anywhere, in every way!
Maximizing the virtual terminal
Offering maximum value in a merchant portal
Harnessing the Future of Retail
Influencing the payments ecosystem
A 'customer-first' focus always wins
Breaking down EMV adoption barriers for SMBs
Eliminating EMV pain for restaurants
Online merchant enrollment made easy!
Take steps to advance merchant growth
Do you have access to the future?
Something fantastic for merchants!
Carving a smart path to the future
When the ETA talks, people listen!
The endgame in selling merchant services