Simplifying large-scale EMV management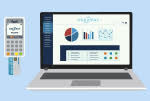 As automation becomes increasingly more complex, the number of applications needed to manage critical business functions are also growing in proportion. This is true for nearly every facet of business, including the management of sales, customer service, marketing, and inventory.
The management of electronic payment data is no exception. In fact, business automations for tracking payment activity have been an integral layer of the core technology mix for most enterprise-level businesses for some time. And, as compliance requirements such as EMV (Europay, Mastercard and Visa) and PCI continue to advance, the demand for new payment automations have evolved as well.
Staying up-to-date on the latest payment compliance initiatives can be overwhelming for some companies. Of course, it's even trickier for businesses that manage hundreds, and even thousands, of POS locations and devices. These factors and others have prompted innovators within the payments industry to develop payment management tools that enable large-scale retailers to have more streamlined access and control over their diverse payment network.
"We're seeing more efforts within the payments industry to build information hubs that help consolidate a retailer's payment landscape," said Martin Drake, President of payment gateway provider USAePay. "These merchants handle many logistics at once, and therefore, need a simple, easy-to-access payment management system that can cover front-end transaction needs while also supporting back-office functions such as device deployment and software updates."
Tapping the gateway
Of course, integrations between payment engines and other enterprise solutions are now a well-known way to solve technology gaps, but one-off integration APIs typically only address single data sharing problems. Moreover, two business applications must exist to make an integration possible.
To date, broad-scale device deployment and system-wide POS upgrades have not been supported by mainstream retail software providers. Consequently, large-scale retailers have had to either handle deployment manually or write custom programs that function independently from their gateway.
Since the payment gateway is already the standard go-to solution for managing enterprise-level transaction activity, USAePay decided to explore the potential of using the gateway's backend functionality to facilitate a larger retail scope, including device deployment.
"The inherent programming behind the USAePay gateway makes a perfect platform for bolting on additional retail functionality," said Vlad Galyuz, VP of Product Development at USAePay. "We saw an opportunity to leverage this power when large-scale retailers found it difficult to deploy EMV-compliant POS machines quickly across their vast networks."
EMV in a snap
USAePay's answer to the enterprise retailer's EMV dilemma was to design a payment engine software they dubbed Connection Manager Pro. This groundbreaking software is an enterprise version of the device manager tool available to USAePay users through the company's virtual terminal.
The Connection Manager Pro is ideal for companies that need to manage several EMV devices remotely. Users can log into USAePay's developer portal where they are capable of handling thousands of EMV devices from multiple locations. This outstanding solution will allow developers to deploy multiple locations remotely by rebooting, restoring and re-pairing EMV devices through a single interface.
"In a continuing push by USAePay to deliver enterprise level solutions, we are proud to offer Connection Manager Pro, a game-changing deployment application that uses our existing gateway platform," Galyuz continued. "Multi-location merchants can now manage thousands of EMV payment devices from a single web interface across multiple merchant accounts."
Since many merchants are already familiar with USAePay's virtual terminal interface, it is expected the Connection Manager Pro application will drive an immense efficiency boost for retail operational teams. All devices are managed through the developer portal web interface and it is easy for a developer to register for a free developer's account where they will connect and manage their network of EMV devices through the portal.
Innovators by trade
USAePay works hard to improve services for developers by continually adding new software and hardware compatibilities to their payment gateway platform. The Connection Manager Pro is one example of a USAePay revolutionary software that gives developers the convenience of managing multiple EMV devices without physically being at the locations.
If you are interested in learning more about USAePay or the Connection Manager Pro product, please contact the USAePay Channel Sales Department at Resellers@USAePay.com or call their team directly at 1-866-USAePay.
---
Featured content specifically for USAePay:
Automation for large retailers
Diversifying the payment gateway
Simplifying large-scale EMV management
Mobile POS integrity you can count on
The coding behind your USAePay integration
Superb card-not-present strength and security
New and improved iOS app for POS