Mobile POS integrity you can count on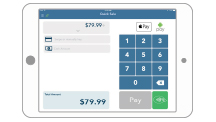 In today's world, the idea of adding a mobile POS system into the business plan is no longer a luxury for merchants. In fact, taking payment through a mobile system has almost become a necessity for brick-and-mortar and on-the-go merchants in order to stay competitive.
These merchants are probably already thinking about how a mobile POS system could help them expand, take remote or alternative payments, or even set up mobile registers throughout their stores. Others may be looking into the latest tablet-based POS systems, because they want a sleeker and more intuitive countertop system, or they want the cloud-based features these systems offer over their stand-alone POS.
Additionally, if a merchant has not yet upgraded to an EMV (Europay, Mastercard and Visa) compatible system, now is likely when they will be most open to investing in a mobile POS system that can give them greater flexibility, features and compliance, all in a single package.
In short, regardless of the need or motivation, the time has come when every POS-centric merchant has some reason to consider shifting to a mobile POS system. As their merchant services provider, this presents a wonderful sales opportunity, but it also comes with an added responsibility of ensuring these systems are backed by the most secure and progressive gateway technologies in the industry.
One end-to-end gateway solution
"Partners turn to the USAePay gateway time and again, because it is flexible, robust and reliable," said Martin Drake, President at USAePay. "Enabling a merchant to accept payment through a mobile POS application is no exception and our gateway offers the same security, compliance and user-friendly characteristics for this type of POS transaction as it does for an ecommerce or traditional POS payment."
The USAePay mobile POS gateway provides merchants with the ability to accept all forms of electronic payment. This includes traditional debit and credit payments, as well as payments made using mobile contactless payment apps offered through Apple, Android and Samsung. A mobile POS can even be programmed to accept ACH or record cash transactions.
Furthermore, with the USAePay payment gateway technology standing behind a merchant's mobile POS, they have the assurance that every sale is backed by the latest PCI DSS standards and advanced encryption parameters. And, as always, USAePay is vigilantly dedicated to ensuring its technologies are up to date with the latest compliance and security standards; all to ensure the merchant and the cardholder are protected at all times from unwanted intrusions.
USAePay is currently EMV certified for deployments made through Global Payments and is also in the midst of certifying its technology with the other mainstream processors. This will ensure the sales and implementation steps across all processing channels are as streamlined as they can be so that every new mobile POS system can get up and running quickly, but also be fully compliant from the start.
"One of USAePay's values is to stay ahead of the industry's compliance initiatives," Drake continued. "Our efforts to certify the USAePay gateway technology through every major processor, helps to demonstrate this inherent commitment, and it enables our partners to easily deploy mobile POS systems regardless of which processing platform the account is boarded through."
If you would like to know more about USAePay's gateway, security standards and/or the latest in our mobile POS capabilities, we invite you to contact us at 1-866-USAePay or visit our website.
---
Featured content specifically for USAePay:
Automation for large retailers
Diversifying the payment gateway
Simplifying large-scale EMV management
Mobile POS integrity you can count on
The coding behind your USAePay integration
Superb card-not-present strength and security
New and improved iOS app for POS