Great to see you at ETA!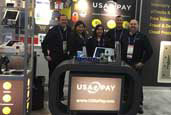 In a show of ongoing commitment to our existing and future partners, and taking advantage of the annual opportunity to pay tribute to our 'reseller friendly' core value, USAePay was once again present at the annual ETA Transact event.
Several USAePay leaders and staff were fortunate to attend Transact16 this year, and as we traveled through what proved to be another excellent line-up of educational sessions - covering everything from security to the latest trends in mobile and global payments - we were able to spend quality time with our valued partners. Of course, several of you also visited our showroom exhibit, where we had the chance to walk visitors through our latest gateway technology advancements, and also meet many new up-and-coming industry professionals. Thanks to all who stopped by to learn more about our products and services.
Custom payment technologies
As a dedicated provider of innovative technologies specially tailored for the payments industry, USAePay will always be committed to participating in events and other industry sponsored opportunities to honor our existing client-base and build an even greater bond. This is the philosophy that helped our company grow into the well-respected, worldwide gateway service provider it is today, and we plan to continuously honor it well into the future.
"We are grateful for every one of our partners. They are the primary reason we routinely participate in industry trade events such as the annual ETA Transact conference," said Ben Goretsky, USAePay CEO and Founder. "We always look forward to this event every year, because it gives us a very unique opportunity to spend time with our reseller friends, and opens up opportunities to establish new relationships."
All in the family
Brothers Ben and Alex Goretsky have offered the payments industry and its sales organizations a leading payment gateway product for over 15 years. USAePay's stable and secure technologies and the company's collegial approach to doing business with its partners, have earned USAePay an acclaimed reputation and a brand identity that is par-none to other gateway service providers.
USAePay's payment gateway supports all major platforms in the credit card industry and works with most of the leading check platforms. The company also works closely with many large merchant service banks across the U.S. and abroad. USAePay has established a large global reseller network and we work hard to ensure our presence within the industry remains strong and supportive.
If you didn't get a chance to see us this week at ETA, we're genuinely sorry we missed you! However, there are and will always be other opportunities to connect, and we want to assure you we will be available anytime to discuss your business needs.
If you'd like a comprehensive demo of the USAePay offerings, or you'd just like to spend a few minutes catching up, please reach out to us at 1-866-USAePay. We look forward to hearing from you and seeing you later this year at the other industry events.
---
Featured content specifically for USAePay:
Automation for large retailers
Diversifying the payment gateway
Simplifying large-scale EMV management
Mobile POS integrity you can count on
The coding behind your USAePay integration
Superb card-not-present strength and security
New and improved iOS app for POS