New and improved iOS app for POS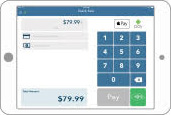 Much like the vintage terminal and register-based point-of-sale (POS) applications of the past, today's tablet-based payment technologies are progressing along with a highly dynamic marketplace. It is a time when developers must pay close attention to what is occurring at the counter to anticipate and deliver merchants with the most competitive, progressive-edge POS solutions possible.
USAePay is known for developing a wide range of cutting edge POS technologies for channel resellers to offer customers. One of its most widely used systems is the USAePay POS Payment System. The product functions as an iOS app and can be used on any Apple iOS device for a complete POS checkout solution. The company recently launched version 2.0.4 of the product to the Apple iTunes Store in January.
"This newest addition to our iOS mobile solutions not only looks great on all of the latest Apple iOS devices, but also takes advantage of all the new technology," said USAePay CEO Ben Goretsky. "The speed and functionality of the new app is phenomenal, especially with the support for Apple Pay and eventually EMV. We are very excited to have it available to all of our merchants today."
Feature-rich interface
The newest version of the USAePay POS Payment System includes new features and improvements that include an itemized ordering process, along with tools for managing products, customers and sales transactions.
The application enables a merchant to transform any Apple iOS device into a complete POS checkout system that offers everything needed to process sales and manage customer activity. Features include diverse payment options, security attributes, a customer database, as well as ordering and inventory management tools. It also allows merchants to manage transactions, orders, customers and inventory through the USAePay online web console, in addition to an iPhone or iPad.
Additional features include support for add-on hardware such as multiple card readers, barcode scanners, receipt printers, cash drawers, EMV (Europay, MasterCard, Visa) card readers and contactless payment acceptance (such as Apple Pay and Android Pay). The application also supports quick sales, line-itemized orders, gift card payments, quick-click refunds and advanced transaction history reporting and filtering.
Offer the latest in iOS
If you are a reseller looking for a feature-rich iOS application in the payments marketplace to add to your offerings, USAePay invites you to contact us at 866.USA.EPAY (872-3729). A representative will be happy to walk you through the features and functionality of the USAePay POS Payment System for iOS, along with our entire portfolio of channel friendly payment technologies. For more information, you can also visit us at: http://usaepay.com.
---
Featured content specifically for USAePay:
Automation for large retailers
Diversifying the payment gateway
Simplifying large-scale EMV management
Mobile POS integrity you can count on
The coding behind your USAePay integration
Superb card-not-present strength and security
New and improved iOS app for POS