Anatomy of friendly code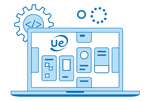 In today's technology world, the application program interface – better known as the API – has become the standard way of connecting functionality from one application to another to enable data to flow seamlessly between the two programs.
APIs in payment technology have been common for nearly twenty years. Simple integrations, such as linking transaction information captured through a gateway to a merchant's accounting application is an example of the earliest API written in payments. However, over time, more complicated payment-centric APIs have emerged that feed many kinds of payment and cardholder details to enterprise resource management (ERP) applications and vertical-specific Software-as-a-Service (SaaS) programs such as inventory or sales management applications used for business.
"Software APIs have evolved drastically over the past two decades and are now a standard practice in the payments industry for integrating complex transaction detail with other data-driven applications used by the merchant," stated Vlad Galyuz, Vice President of Product Development at USAePay
Easy-to-implement APIs
Ironically, not all gateway APIs are easy to work with right off the shelf. Some only fit a certain purpose and will lack the scaling needed to cover a broader integration use. Others may not be fully tested ahead of implementation and could still have unresolved data flow issues. It is even common for some APIs to be so complex, they can't be easily repurposed.
These unanticipated situations can cause headaches and delays for development teams that work to pair applications and functionality together so data can flow seamlessly to and from the right places. "Nothing is more frustrating for a developer than receiving an API that either doesn't work properly or is not inclusive of all the expected features and functionality," continued Galyuz.
According to Galyuz, USAePay takes care to ensure these situations will not happen. In fact, they are known within the industry for having clean, fully functional and easy-to-implement APIs, and they fondly refer to their signature API library as "Friendly APIs," where the coding is purposefully built to be flexible and user-friendly.
"Whenever we develop a new API or enhance legacy code, our development team spends quality time vetting, testing and modifying the language in whatever ways may be necessary to ensure it is completely operational and easy to link to on a variety of platforms," Galyuz stated.
Universal integration
One of USAePay's ambitions is to create APIs that can integrate with a host of different programming languages, devices and platform types. Ideally, one API can be built that will easily plug in and be instantly functional in any user environment. Of course, there may be times when a few small changes need to be made to ensure the transfer of data will work seamlessly, but it never requires weeks for development, slowing down progress.
In addition, USAePay programmers and solution architects are always available to a developer or development team to assist with any API implementation. The company has also created and openly shares comprehensive software development kits that can be easily downloaded through the USAePay developer portal.
Attention to detail
Accuracy is also an important value at USAePay. The USAePay developers spend countless hours building and testing APIs in order to ensure they work and will be functionally compatible with all defined platforms they may be integrated to.
Of course, security is another area that is taken very seriously by the USAePay development team, and it is a paramount consideration for every single API that is built and available through the library.
"When you're working with payment information, the margin for error is zero," Galyuz added. "It's important to build solid APIs that not only transfer information flawlessly, but do it securely and nimbly, without causing any problems at the front end."
USAePay invites all in-house ERP or SaaS developers that are considering options for integrating payment features into their applications to check out the USAePay online library of "Friendly APIs". Likewise, if you are a payments professional working with companies that use vertical-focused SaaS or ERP software, USAePay is here to help you and your developers integrate payments into their software. To learn more, please visit the USAePay website.
---
Featured content specifically for USAePay:
Automation for large retailers
Diversifying the payment gateway
Simplifying large-scale EMV management
Mobile POS integrity you can count on
The coding behind your USAePay integration
Superb card-not-present strength and security
New and improved iOS app for POS