IRIS CRM Spotlight – Get More Prospects and Close More Sales
Today the payment industry is highly competitive, sales prospects receive more daily marketing communications than ever before. To reach clients, you need to be a trusted source, otherwise, your calls will be ignored no matter how good your sales pitch is. And if you're an ISO conducting a national sales campaign, the quickest way to be successful is to get people to answer your phone call.
When local presence is enabled on the IRIS Dialer, your prospects will see a local phone number on their caller ID. If your prospect calls back, the call is routed to your own existing Interactive voice response (IVR) or inbound call flow.
Studies at Softwareadvice.com, reveal that customers are 48% more likely to answer their phone if they see it is a local number on the caller ID. This technique often results in an increased connection rate of up to 400%, yielding at least 15% more daily sales conversations. Once you try local presence for your telesales operation, you will never go back to the traditional method of calling clients and customers.
Local phone numbers are available from IRIS for $3.00 per number per month per number. Toll-free numbers are also available for $5.00 per number per month. Any existing phone numbers that you own can be easily ported to the Dialer system.
Start getting your sales team to speak with more prospects and close more accounts today by signing up for the IRIS Dialer.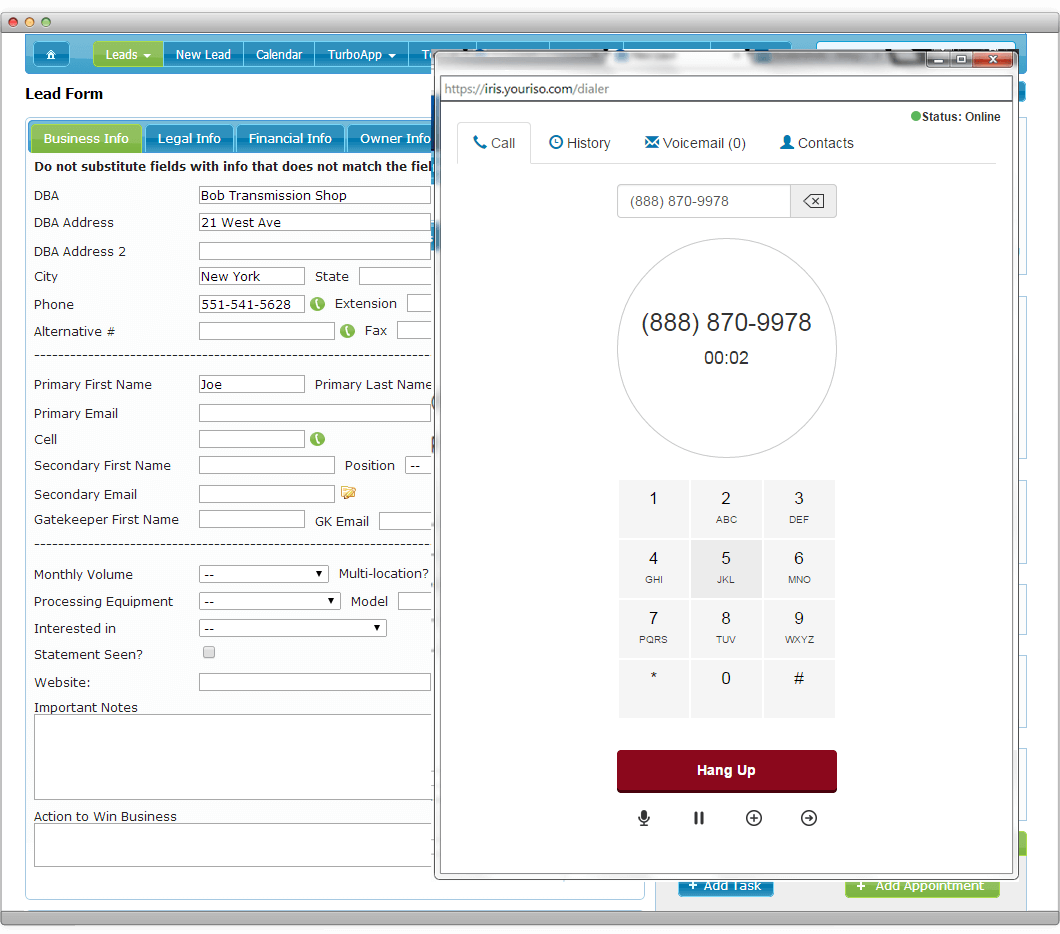 About IRIS CRM
IRIS CRM is a premier sales automation software company servicing clients in the payments industry. The platform was created for ISOs to track their sales process, on-board new merchants and view portfolio activity information. IRIS CRM also provides residual management and calculations for agent payouts.
The Clients use IRIS CRM to board new merchants, track leads, manage support tickets and pay residuals from over 40 processing networks. IRIS CRM is a PCI Level 1 service provider with over 30 integrations. IRIS CRM offers robust & processor agnostic reporting for clients in formats conducive to higher productivity and growth.
With over 30 current integrations, IRIS CRM also offers robust reporting for clients in formats conducive to determining productivity and growth. Clients do not install IRIS CRM, but instead, access it through a secure website built and hosted by IRIS CRM.
---
Featured content specifically for IRISCRM.COM:
IRIS CRM Spotlight: Close More Deals with IRIS CRM's eSignature
IRIS CRM Spotlight:
How to Start Winning on Chargeback Disputes
IRIS CRM Spotlight:
How to Increase Your Profits Without Signing Anymore Accounts
IRIS CRM Spotlight:
SMS Versus Email: Which One Wins?
IRIS CRM Spotlight – Get More Prospects and Close More Sales
IRIS CRM Spotlight on Profitability Reporting Module – Gain Insight into your Clients and the Health of Your Portfolio to Save Time and Make More Money
IRIS CRM Spotlight on Call Center Software – Get More Efficient and Increase Sales
Spotlight on IRIS CRM: Ever Wonder if There is a Better Way to Calculate Residual Income?
Spotlight On IRIS CRM: Make Your ISO Communications Great
Introducing an Essential Payment Processing Tool to
Eliminate Five of the Most Critical ISO Issues