IRIS CRM Spotlight on Profitability Reporting Module – Gain Insight into your Clients and the Health of Your Portfolio to Save Time and Make More Money
IRIS CRM's residual income reporting tool offers ISOs a unique management capability that improves the transparency, accuracy, and timing of monthly residual payouts. Residual reporting reduces agent churn, lowers hiring costs, and increases merchant approvals.
As part of the residual reporting package, IRIS also offers a profitability reporting module that can help you evaluate your business and develop opportunities. You can use profitability information to empower you to make important decisions on the fly such as deciding if a merchant should receive a free terminal or an on-site visit. Profitability data can also be used to dive into your portfolio and find where you can improve your business on the entire portfolio(s) and on a per merchant basis.

The profitability module assigns a clear and visual dollar value to each merchant customer in your portfolio(s). This empowers you to fully understand the opportunity cost of each of your existing merchants and maximize where your time is best spent. Here are two real life examples:
Not Profitable

–A merchant logs 50 support tickets a month but is only generating the company a profit of $50 a month. In reality, this merchant is losing the company money. In this case, releasing the merchant is a good business decision and will allow management to refocus resources in more profitable areas.

Profitable

–A merchant is generating $500 a month and rarely logs support issues. This merchant is even more valuable to the company than the $500 a month they generate because they do not take up much time or effort. A good business decision would be to assign a top customer service representative to this merchant and send them a gift basket from time to time.
Using profitability data empowers your team to make snap decisions on the spot and stop wasting valuable time waiting on a manager to deliberate on a decision. The quick decision making makes new and existing blue-chip merchants happy.

Using IRIS profitability metrics allows you to see the health and trajectory of your portfolio from a high level. A residual earnings table allows ISOs to filter on 3 month, 6 month, year to date, 12 month and customized date ranges when viewing portfolio earnings to analyze sales trends. The IRIS profitability reporting module provides the following month over month statistics:
Monthly Volume Growth
Monthly Volume Growth Percentage
Monthly Revenue Growth by Percentage
Monthly Revenue Growth
Average Profit Per Merchant
Average Basis Points Profit Per Merchant
Monthly Basis Points Margin Growth Percentage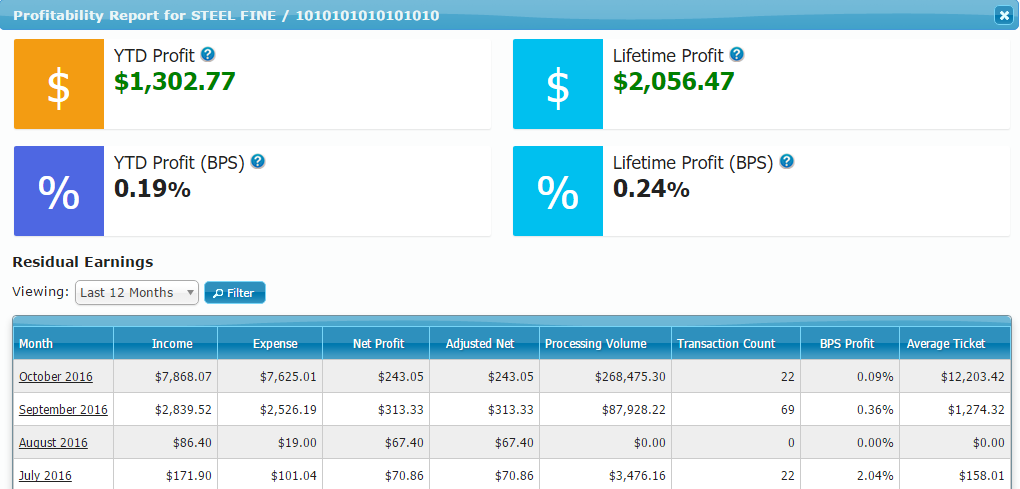 It's simple and easy to get started with IRIS CRM and using the residual income module, just follow these steps:
Step 1 – Sign up with IRIS CRM to start a free 30-day trial. No credit card is required. Step 2 – Work with the IRIS CRM implementation team to upload and map out your residual reports from your processors. Step 3 – Verify the initial calculations and ensure all of the templates and user split assignments are correct. Step 4 – Start enjoying your automated residual calculations!
About IRIS CRM
Integrated Reporting is Simple (IRIS CRM) is a premier sales automation software company servicing clients in the payments industry. The platform was created for ISOs (sellers of electronic payment services) to track leads, appointments, tickets, commissions and live accounts from processing networks. With over 30 current integrations, IRIS CRM also offers robust reporting for clients in formats conducive to determining productivity and growth. Clients do not install IRIS CRM, but instead access it through a secure website built and hosted by IRIS CRM, a certified PCI Level 1 Compliant Service Provider.
Headquartered in Brooklyn, New York, IRIS CRM offers a fast-paced and stimulating corporate culture and a team environment that leverages the latest technologies to deliver reporting and business process automation services to our clients in the payment processing industry.
A typical client is an ISO that is looking to consolidate their day to day operations into a single tool. IRIS CRM provides a single portal to handle every process from the time that a lead is a seed - all the way through the lifespan of an account.
---
Featured content specifically for IRISCRM.COM:
IRIS CRM Spotlight: Close More Deals with IRIS CRM's eSignature
IRIS CRM Spotlight:
How to Start Winning on Chargeback Disputes
IRIS CRM Spotlight:
How to Increase Your Profits Without Signing Anymore Accounts
IRIS CRM Spotlight:
SMS Versus Email: Which One Wins?
IRIS CRM Spotlight – Get More Prospects and Close More Sales
IRIS CRM Spotlight on Profitability Reporting Module – Gain Insight into your Clients and the Health of Your Portfolio to Save Time and Make More Money
IRIS CRM Spotlight on Call Center Software – Get More Efficient and Increase Sales
Spotlight on IRIS CRM: Ever Wonder if There is a Better Way to Calculate Residual Income?
Spotlight On IRIS CRM: Make Your ISO Communications Great
Introducing an Essential Payment Processing Tool to
Eliminate Five of the Most Critical ISO Issues