IRIS CRM Spotlight on Call Center Software – Get More Efficient and Increase Sales
Using the IRIS Call Center Software in conjunction with the IRIS CRM platform is an ideal way to streamline and grow your business.
Finally, an all in one, integrated call center solution for all your communications needs!
The IRIS CRM Call Center Software solution is flexible and easily customizable to your individual needs. This robust platform eliminates the need to purchase expensive phone systems and software as well as the cost to manage both. With the IRIS cloud based Dialer, you're able to affordably scale your call center, be on the cutting edge of technology, and receive high levels of reliability and security. All you need is a USB headset to get started.
The IRIS Dialer system can support IVR, voicemails, extensions, as well as provide metrics about talk time and the number of calls made per user.

The IRIS Dialer improves merchant satisfaction because:
Merchant accounts are approved sooner
ISOs are better trained
The calls are recorded for training purposes and they help eliminate any confusion between the agent and the merchant
Increases connection rates
Creates more sales opportunities
Increases productivity

Using the IRIS Dialer with IRIS CRM, allows all your calls to be recorded and bound to each sales record. The recorded calls give managers the context to provide appropriate coaching and reference for future conversations. When an inbound call occurs, the pop-up will show you the specific lead so that the employee can pull up the account or lead immediately and answer the calls with a personal touch.
By having more efficient agents and receptive customers, sales can be increased significantly by using the IRIS Dialer and the IRIS CRM platform. The quantity and quality of calls improve, resulting in more sales per agent. The Dialer also provides a metrics page that will further help you review, measure, and accelerate agent production.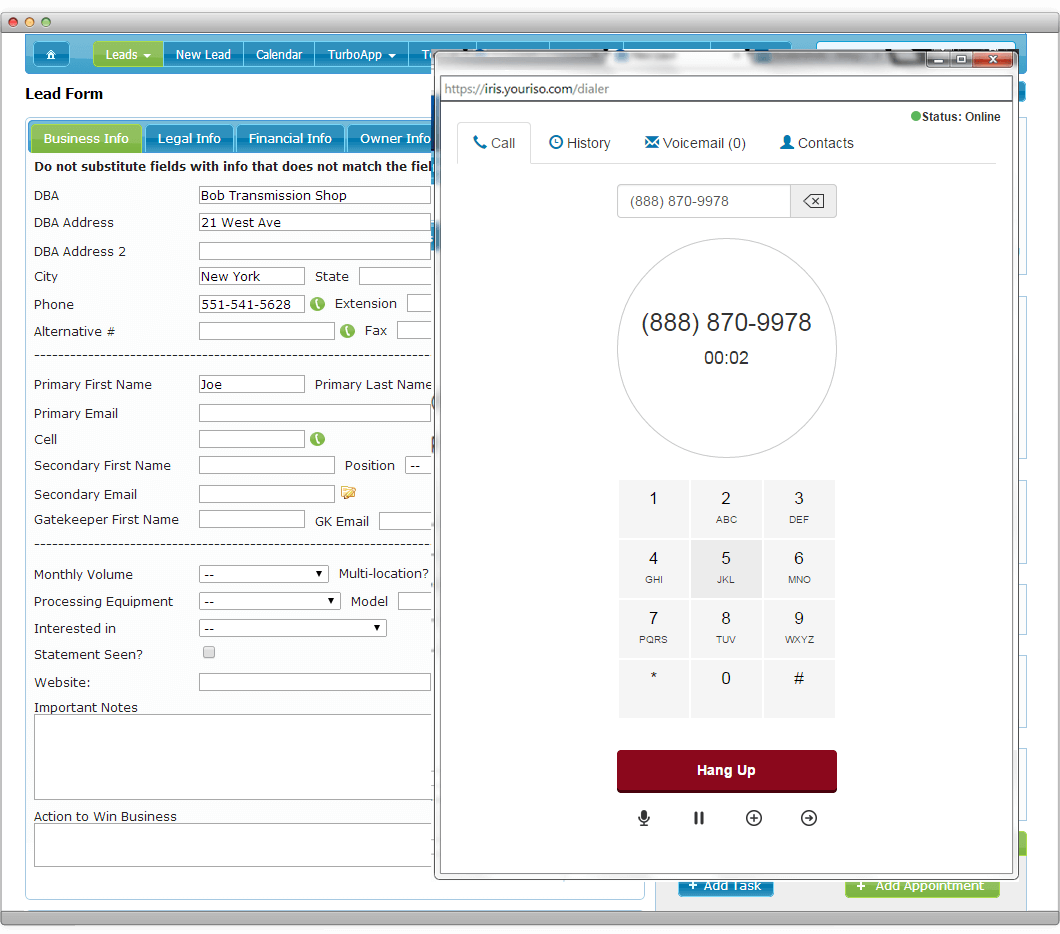 About IRIS CRM
Integrated Reporting is Simple (IRIS CRM) is a premier sales automation software company servicing clients in the payments industry. The platform was created for ISOs (sellers of electronic payment services) to track leads, appointments, tickets, commissions and live accounts from processing networks. With over 30 current integrations, IRIS CRM also offers robust reporting for clients in formats conducive to determining productivity and growth. Clients do not install IRIS CRM, but instead access it through a secure website built and hosted by IRIS CRM, a certified PCI Level 1 Compliant Service Provider.
Headquartered in Brooklyn, New York, IRIS CRM offers a fast-paced and stimulating corporate culture and a team environment that leverages the latest technologies to deliver reporting and business process automation services to our clients in the payment processing industry.
A typical client is an ISO that is looking to consolidate their day to day operations into a single tool. IRIS CRM provides a single portal to handle every process from the time that a lead is a seed - all the way through the lifespan of an account.
---
Featured content specifically for IRISCRM.COM:
IRIS CRM Spotlight: Close More Deals with IRIS CRM's eSignature
IRIS CRM Spotlight:
How to Start Winning on Chargeback Disputes
IRIS CRM Spotlight:
How to Increase Your Profits Without Signing Anymore Accounts
IRIS CRM Spotlight:
SMS Versus Email: Which One Wins?
IRIS CRM Spotlight – Get More Prospects and Close More Sales
IRIS CRM Spotlight on Profitability Reporting Module – Gain Insight into your Clients and the Health of Your Portfolio to Save Time and Make More Money
IRIS CRM Spotlight on Call Center Software – Get More Efficient and Increase Sales
Spotlight on IRIS CRM: Ever Wonder if There is a Better Way to Calculate Residual Income?
Spotlight On IRIS CRM: Make Your ISO Communications Great
Introducing an Essential Payment Processing Tool to
Eliminate Five of the Most Critical ISO Issues