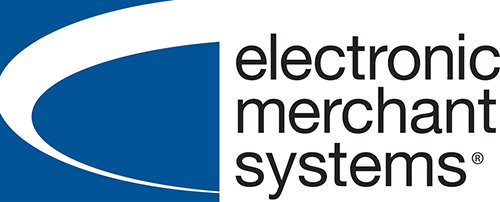 Improve Your Trade Show ROI with Social Media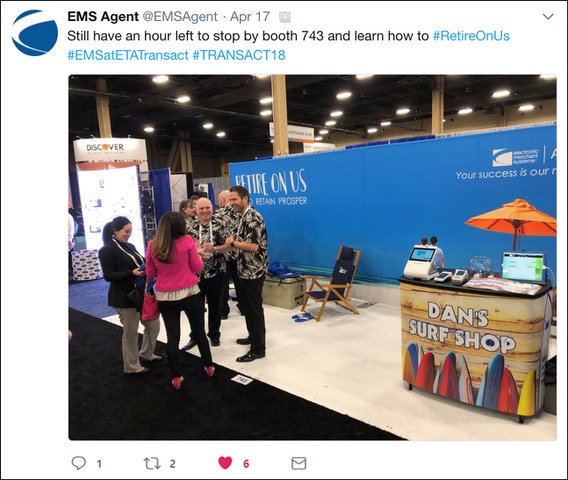 Whether you're an exhibitor or attendee, you want to get the most out of every trade show you attend. Unfortunately, that doesn't always happen—sometimes you leave a trade show feeling like you wasted your time and money. Good news: there's a proven way to enhance your trade show experience and get a better return on your investment. If you want to generate promising leads, gain better media coverage, or forge powerful connections in the payments industry, you need to leverage social media, and hashtags are a great place to start.
Take Transact18 for example. Transact is an electronic payments industry trade show coordinated by the Electronic Transactions Association (ETA). #ETATransact, and #Transact18 were the official hashtags for this year's show, held April 17-19, 2018 in Las Vegas, Hashtags auto-categorize social media activity, making it easy for attendees, industry professionals, and media personnel to read, follow, and contribute to event-related conversations. As of April 2018, Transact's official hashtag has been viewed more than 17 million times by a potential 2.6 million unique users (as reported by Tweet Binder analytics). With millions of views, this social media activity generates industry awareness—extending Transact's presence beyond Las Vegas.
Why You Should Use Official Trade Show Hashtags
As evidenced by the 17 million impressions, an official trade show hashtag is a powerful tool for everyone involved —whether you're a show sponsor, industry association, exhibitor, or attendee. Hashtags can create a dedicated Twitter feed, by aggregating show-related tweets to engage target users and prospective attendees and track engagement. These tweets and other social media activity provide real-time, quantitative data. For instance, Tweet Binder's live infographic displays total tweets, potential reach, and total contributors. As of April 2018, the most popular #ETATransact contributors, based on number of followers, included FinTech leaders, financial services companies, and global payment gateways.
Twitter and other social media platforms make it easy to engage key professionals before, during and after an event. Here's how #ETATransact was used at all three stages:
Before the Show: Social media is a great way to create a buzz before an event. Exhibitors used the Transact hashtags to promote their booths. Tweets included the official hashtag and the company's booth number. Other tweets tagged fellow exhibitors, posting, "We look forward to connecting!" The show sponsor, ETA, also used the hashtag to share application and registration deadlines and engage with prospective attendees prior to the event.
During the Show: Social media is also an effective way to provide live updates to attendees and remote participants. During the trade show, exhibitors tweeted what they were showcasing each day and where to find their respective booths. For example, SecurityMetrics posted, "It's #NationalHighFiveDay! Make sure to stop by the SecurityMetrics #ETATransact booth #718 this morning and give one of our team members the best high five they'll ever get in their life." This is a quick and conversational way to increase booth traffic, generate additional leads, and gain free brand exposure.
After the Show: Tweeting after an event is a great way to strengthen a relationship with someone you met at the conference. For example, trade show exhibitors used the official hashtag to thank ETA for a successful event, others used the hashtag to encourage follow-up meetings, and some attendees expressed excitement about prospective partnerships. You can leave a lasting impression on a keynote speaker by mentioning them in your tweet—thank them for speaking at the trade show and post a picture of them on stage.
Whether you want to announce your attendance or post pictures of the event, Twitter can be a great way to start or continue a conversation about an industry trade show. Of nearly 4200 #ETATransact tweets, 345 were text tweets, 1,632 were links and/or images, and 2,133 were retweets. Depending on your content strategy, Twitter may be an effective way to promote your company or simply get your trade show questions answered.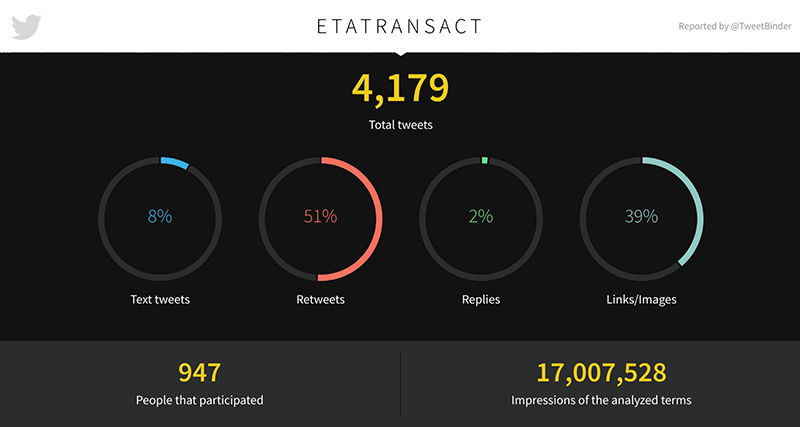 The Impact of Using Social Media at Trade Shows
By using social media at trade shows, you can generate awareness about the event itself and the industry at large. Tweet Binder's Twitter analytics report lists the top five hashtags from the event as #ETATransact, #Payments, #Transact18, #Fintech, and #Technology. An official trade show hashtag campaign extends beyond the event itself by encouraging and continuing important conversations about the payments industry as a whole.
As a leading provider in the payments industry, Electronic Merchant Systems (EMS) attends, tweets, and recaps some of the best payments industry trade shows every year. By engaging with the industry on social media and tracking insights, we can optimize our approach and engage with our target audience. We are always excited to speak with current and prospective ISO agents and industry professionals in person and virtually. Connect with us on Facebook, Twitter, Instagram, and Linkedin.
Electronic Merchant Systems is a leading provider of payment processing & merchant services. For more information please visit our website, emscorporate.com.
This article cites social media data reported by Tweet Binder. Data is based on Twitter activity using the hashtags #ETATransact and #Transact18.
---
Featured content specifically for Electronic Merchant Systems:
Electronic Merchant Systems' Agent Program Puts You First
Agent-First Processing, Part 6: Transparency & Frequent Communication
Agent-First Processing, Part 5: Expedited Funding
Agent-First Processing, Part 4: Premium Product Suite
Agent-First Processing, Part 3: Portfolio Management & Reporting
Agent-First Processing, Part 2: Fast-Track Your Deals
Agent-First Processing, Part 1
Profit as you grow in merchant services
Improve Your Trade Show ROI with Social Media